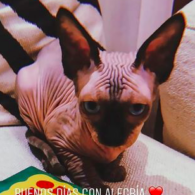 Pepe
Pepe has been a cherished part of the Cristiano Renaldo and Georgina Rodriguez household since 2019. She is a hairless cat and enjoys being taken on luxury holidays with the couple. In 2021, Pepe was nearly killed when she was hit by a car after escaping their luxury home in Turin. She spent a month and a half in intensive care at the vet's and now lives in Spain with Rodriguez's sister.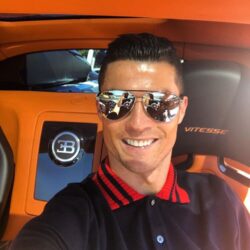 Birthday
February 5, 1985 (38)
Cristiano Ronaldo is known as a Portugese soccer player who plays for the Spanish club Real Madrid soccer team and the Portugal national team. He is an animal rights activist and helped save a struggling dog kennel by raising money for 80 dogs. Ronaldo has two dogs and one cat who are all treated like European royalty by him and his wife Georgina Rodriguez. He has often ranked as the best player in the world and he has been named the best Portuguese player of all time be the Portuguese Football Federation. Cristiano Ronaldo has won five Ballon d'Or awards and four European Golden Shoes, the most by a European player. He also holds the records for most appearances, most goals and assists in the Champions League, most goals in the European Championship, and most international goals by a male player. In addition to his athletic awards, Ronaldo was named the "world's most charitable athlete" by DoSomething.org, thanks to a huge list of donations he made, including giving over $6 million to help people in Nepal after a devastating earthquake.
Ronaldo is one of the world's most marketable sportsmen: SportsPro rated him the fifth most marketable athlete in 2012 and eighth most marketable athlete in 2013, along with Brazilian footballer Neymar, who is one of the three man strike team with Luis Suárez and Lionel Messi, dubbed "MSN".