 No Pets (Tan France)
Tan France does not have any reported pets.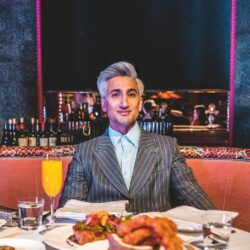 Birthday
April 20, 1983 (40)
Tan France is a British-born fashion designer and television personality. He rose to fame as the fashion expert on the popular Netflix series Emmy-winning "Queer Eye," where he helped individuals revamp their wardrobes and boost their confidence. With his impeccable sense of style and warm personality, France has become a beloved figure in the fashion industry and a role model for many. He continues to inspire and encourage others to embrace their individuality and to never be afraid to express themselves through fashion.
Beginning his on-screen journey with "Queer Eye," France quickly became an icon for his approach to style, confidently guiding individuals through transformative makeovers. His style advice wasn't just about wearing the right clothes; it was about fostering confidence and self-expression through fashion. Besides "Queer Eye," his talent landed him roles in Netflix's series "Next in Fashion," a design competition show where he co-hosted alongside Alexa Chung. His genuine approach to fashion and quick wit also earned him an autobiography, "Naturally Tan," where readers get an intimate glimpse into his personal life and journey.
Over the years, France has collaborated with an impressive list of celebrities and influential figures, solidifying his mark in the industry. This includes appearances alongside Pete Davidson, helping him with a style transformation on "Saturday Night Live." He's shared screen space with icons like Taylor Swift, teaching her how to make a burrito on "The Ellen DeGeneres Show." Other notable interactions include the likes of John Mulaney, Nick Kroll, Ali Wong, Antoni Porowski, Karamo Brown, Bobby Berk, Jonathan Van Ness, and Gigi Hadid.
Recognizing his impactful contributions to the entertainment and fashion world, France has been celebrated with numerous distinctions. He and the "Queer Eye" cast were honored with three consecutive Emmy Awards for Outstanding Structured Reality Program. Additionally, his book "Naturally Tan" became a New York Times Best Seller, exemplifying his knack for connecting with readers through genuine narratives.