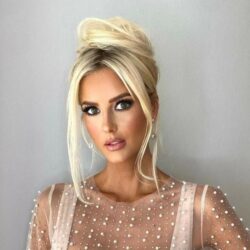 Birthday
July 14, 1991 (32)
Emma Hernan is a reality TV star, model, actress, and entrepreneur who rose to fame as a cast member on the hit Netflix reality series "Selling Sunset." Prior to her appearance on the show, Emma had already established herself as a successful model, having worked with notable brands such as Bebe, Maxim, and Sports Illustrated.
Throughout her career, Emma has had the opportunity to work with a variety of high-profile artists, athletes, and influencers. She has modeled for clothing brands owned by celebrities such as Kim Kardashian and Rihanna, and has also worked with NFL players such as Rob Gronkowski and Danny Amendola.
In addition to her modeling career, Emma has also pursued acting, appearing in several television shows and films. She has also launched her own business ventures, including a swimwear line called "Inamorata Swim" and a luxury car rental company called "Miami Drive Club."
Aside from her professional accomplishments, Emma is also an animal lover and advocate. She has been involved with several animal rescue organizations and has even rescued and adopted her own pets. In a recent interview, Emma discussed her passion for animal welfare and emphasized the importance of adopting pets from shelters and rescue organizations.
Selling Sunset cast members and their pets: