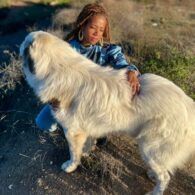 Biscuit, Grits, and Gravy
Singer and chef Kelis has three farm dogs named Biscuit, Grits, and Gravy who are all Great Pyrenees. She's pictured here with Biscuit on her farm. She got this breed because they're known as livestock guardians and protect Kelis' farm animals from predators such as coyotes, bobcats, cougars, and snakes. Marvin Gaye
Kelis has a llama named Marvin Gaye. Bounty Farms
Kelis' home is a farm in Temecula, California that's known as Bounty Farms. It's home to many pets and livestock, including dogs, horses, llamas, goats, cows, turkeys, chickens, ducks, and more.
Kelis Rogers, better known as Kelis, is a multi-talented singer, songwriter, and chef. Born in New York City, Kelis began her music career in the late 1990s with her debut album, "Kaleidoscope," which featured the hit single "Caught Out There." The album showcased her unique blend of R&B, soul, and hip-hop, and set the stage for her future success.
Kelis' follow-up album, "Wanderland," was released in 2001 and featured collaborations with Pharrell Williams and Raphael Saadiq. Her 2003 album, "Tasty," produced the hit single "Milkshake," which became a cultural phenomenon and solidified her status as a pop icon.
Throughout her career, Kelis has collaborated with a number of influential artists, including Nas (whom she was married to from 2005 to 2010), Andre 3000, and David Guetta, among others. She has made appearances in films such as "Two Can Play That Game" and "The Chronicles of Riddick."
In addition to her music career, Kelis has also pursued a passion for cooking. She attended Le Cordon Bleu culinary school in 2006 and has since released a cookbook, "My Life on a Plate," and a cooking show, "Saucy and Sweet," on the Cooking Channel. Kelis also owns a line of sauces called Bounty & Full, which are inspired by her Afro-Latina heritage.