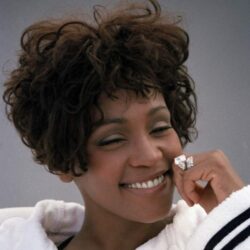 Birthday
August 9, 1963 (59)
Whitney Houston was an American singer, actress, and model whose illustrious career spanned over three decades. She was one of the most awarded female artists of all time, racking up over 400 awards, including six Grammys, two Emmys, 22 American Music Awards, and 15 Billboard Music Awards.
Houston began her career as a model, gracing the covers of many top magazines before signing a record deal in 1983. Her debut album, Whitney Houston, was released two years later and was a massive success, selling over 30 million copies. It featured the hits "How Will I Know" and "Greatest Love of All," songs that would become iconic pop classics.
Houston's career continued to reach new heights following the success of her debut album. She starred in several blockbuster films, including The Bodyguard with Kevin Costner and Waiting to Exhale with Angela Basset. She collaborated with many of the music industry's biggest stars, such as Mariah Carey, Faith Evans, Enrique Iglesias, and Stevie Wonder. She passed away in 2012 at the age of 48.