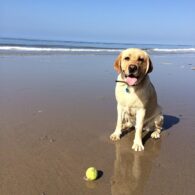 Amos
Michael Keaton is a known dog lover. He featured his Yellow Labrador, named Amos, in a post he shared on social media in 2014. Amos is an avid stick-chaser and lover of Keaton's movies (we're assuming — because who isn't?!) and likely enjoys his dad telling him to "go fetch" in a very deep, ominous tone. Amos is a democrat and has personally congratulated Joe Biden and Kamala Harris on Keaton's Instagram account, pictured laying in a doggie bed next to a sneaker.
Dog
Not much is public about Michael Keaton's hunting dog. We do know two things for sure, though: 1. He loves to chew sneakers (especially new G3's) and 2. Michael Keaton would switch places with him if he could. During an interview, Keaton said he would switch places with them if he could, "They're pure, pure, pure, pure gut instinct. Tuned in. Coming out of the place that 'This is what's in me to do.' We never get that. Ever." 
Michael John Douglas, known professionally as Michael Keaton, is an American actor, best known for playing the DC Comics superhero Bruce Wayne AKA Batman. He's a known advocate for the fair treatment of bears. Keaton has a soft spot for dogs. While he's famous for his role as Batman, Keaton has a long list of accolades and credits on his IMDB page.
Michael Keaton Batman
Michael Keaton played Batman in the films Batman (1989), Batman Returns (1992) and the upcoming The Flash (2022). When Keaton was initially cast as Batman by Tim Burton, fans were rattled. Warner Bros received thousands of letters complaining about the casting, but ultimately, they were wrong. Keaton played Bruce Wayne so well that even today, people everywhere do the Keaton-voice when pretending to be Batman. In the 1989 film, Keaton acted alongside Jack Nicholson, Kim Basinger, and Billy Dee Williams. In 1992, is was Danny DeVito, Michelle Pfeiffer, and Christopher Walken.
For The Flash, it's Keaton's voice that takes center-stage. Even at 70 years old, Michael Keaton's Batman holds strong — he's lending his voice to the film starring Ezra Miller as a Bruce Wayne voiceover. The cast also includes Ben Affleck, Sasha Calle, Kiersey Clemons, Rudy Mancuso and Michael Shannon.
Other Roles
Keaton's other roles include Jack Butler in Mr. Mom (1983), and Adrian Toomes / Vulture in Spider-Man: Homecoming (2017) and the upcoming Morbius (2022). For his role in Betelguese in Beetlejuice (1988) he starred alongside Alec Baldwin, Catherine O'Hara and Winona Ryder. Beetlejuice quickly became a cult-classic, further solidifying Michael Keaton in the hall of fame.