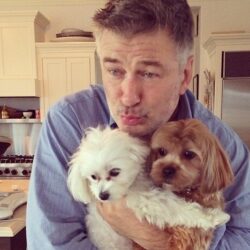 Birthday
April 3, 1958 (64)
Alexander Rae "Alec" Baldwin III is an American actor, writer, comedian, film producer, and political activist. He's known as an animal rights activist and a supporter of organizations like PETA and Save the Manatee Club. Baldwin and his wife are known for rescuing their pets. Shortly after his supporting roles in Working Girl (1988) and Married to the Mob (1988), Baldwin had his big break by playing CIA agent Jack Ryan in The Hunt for Red October (1990), however, he's most famous for his role in 30 Rock. He's won numerous awards, including three Emmys and three Golden Globes.
Alec Baldwin Career
Baldwin has an estimated net worth of $65 million. He is part of a famous Hollywood family, with his three brothers Stephen, William and Daniel also actors. After studying theater, he started his acting career on stage and screen. His first acting role was on the soap opera The Doctors in 1980 and had his Broadway debut in 1986 in Loot. His first film role was in Forever in 1987.
He has more prominent roles the next year, starring in Beetlejuice with Geena Davis, Winona Ryder and Michael Keaton and Working Girl with Sigourney Weaver and Melanie Griffith. His breakout leading role came in 1990, starring in The Hunt for Red October with Sean Connery. His most iconic role was as Jack Donaghy in the TV series 30 Rock, co-starring Tina Fey and Tracy Morgan.
Personal Life
Alec Baldwin is also known for his marriage to Kim Basinger, which lasted from 1993 until 2002, and for being Hailey Baldwin's uncle. Now, he's happily married to Hilaria Baldwin, and the pair have adopted two pups and have seven children: Carmen Gabriela, and sons Rafael, Leonardo, Romeo, and Edu, and Ireland Baldwin who is Alec's child from his marriage to Kim Basinger.
Alec and Hilaria came under fire from their long-time advocacy group PETA for their purchase of Emilio Baldwin, Bengal cat bought as a gift for their daughter Carmen. Emilio was purchased from an upscale breeder that specializes in producing pricey, exotic-looking hybrid cats that originate from crossing a domestic cat with an Asian leopard.