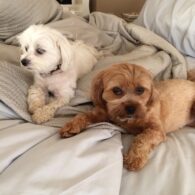 Dama and Gitana
Baldwin and his wife Hilaria have two tiny maltese dogs named Dama and Gitana. They're often seen on their Instagram accounts, as well as in paparazzi photos taking them for walks. One is caramel-colored while the other is white. Both fluffers have preceded Hilaria and Alec's 6 children together — they are their original babies.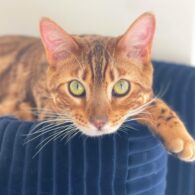 Emilio
Alec and Hilaria Baldwin have a family Bengal cat named Emilio who was purchased as a gift for their daughter Carmen. Emilio has caused some drama in the Baldwin household due to being an exotic hybrid purchased from a cat dealer. The couple have been longtime supporters of the animal advocacy group PETA and they do not like the fact that the Baldwins purchased an exotic cat. Apparently, the cat was purchased for his hypoallergenic properties, since Baldwin is allergic.
Emilio went missing two weeks after Alec Baldwin fatally shot cinematographer Halyna Hutchins on the set of Rust. Emilio was later found with a broken leg. "We found him. Thank you to all of those who helped," she wrote in an Instagram caption. "I won't mention you because the paparazzi and tabloid media are calling every single connection to us, and I don't want you to be harassed too, in their frenzy to make more money."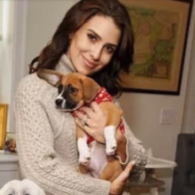 Diego Manchego Baldwin
Diego Manchego is a foster pup in the Alec-Hilaria Baldwin household. He's part pitty and all cute. On finding out Diego Manchego is a pitbull, Hilaria had this to say, "I have to say, finding out that Diego Manchego is predominately Pitt bull made me stop and think. I'm such an open and namaste animal lover that I never thought badly of this breed. Then all of a sudden, I find one in my home, and alarm bells ring. My mind can go from zero to wild imagination super fast. But just for a minute…because I quickly come back to reality and our delicious, sweet pup….I do believe that they have been given an unfair reputation. He is a kind soul, and we are a well equipped, loving family, who is ready to treat and teach him well. Would love to hear your tips, tricks and stories here."
There are rumours that Diego Manchego has been re-homed after not being seen in the Baldwin household for some time.
Alexander Rae "Alec" Baldwin III is an American actor, writer, comedian, film producer, and political activist. He's known as an animal rights activist and a supporter of organizations like PETA and Save the Manatee Club. Baldwin and his wife are known for rescuing their pets. Shortly after his supporting roles in Working Girl (1988) and Married to the Mob (1988), Baldwin had his big break by playing CIA agent Jack Ryan in The Hunt for Red October (1990), however, he's most famous for his role in 30 Rock. He's won numerous awards, including three Emmys and three Golden Globes.
Alec Baldwin Career
Baldwin has an estimated net worth of $65 million. He is part of a famous Hollywood family, with his three brothers Stephen, William and Daniel also actors. After studying theater, he started his acting career on stage and screen. His first acting role was on the soap opera The Doctors in 1980 and had his Broadway debut in 1986 in Loot. His first film role was in Forever in 1987.
He has more prominent roles the next year, starring in Beetlejuice with Geena Davis, Winona Ryder and Michael Keaton and Working Girl with Sigourney Weaver and Melanie Griffith. His breakout leading role came in 1990, starring in The Hunt for Red October with Sean Connery. His most iconic role was as Jack Donaghy in the TV series 30 Rock, co-starring Tina Fey and Tracy Morgan.
Personal Life
Alec Baldwin is also known for his marriage to Kim Basinger, which lasted from 1993 until 2002, and for being Hailey Baldwin's uncle. Now, he's happily married to Hilaria Baldwin, and the pair have adopted two pups and have seven children: Carmen Gabriela, and sons Rafael, Leonardo, Romeo, and Edu, and Ireland Baldwin who is Alec's child from his marriage to Kim Basinger.
Alec and Hilaria came under fire from their long-time advocacy group PETA for their purchase of Emilio Baldwin, Bengal cat bought as a gift for their daughter Carmen. Emilio was purchased from an upscale breeder that specializes in producing pricey, exotic-looking hybrid cats that originate from crossing a domestic cat with an Asian leopard.