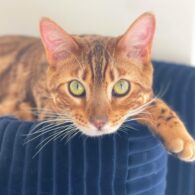 Emilio
Alec and Hilaria Baldwin have a family Bengal cat named Emilio who was purchased as a gift for their daughter Carmen. Emilio has caused some drama in the Baldwin household due to being an exotic hybrid purchased from a cat dealer. The couple have been longtime supporters of the animal advocacy group PETA and they do not like the fact that the Baldwins purchased an exotic cat. Apparently, the cat was purchased for his hypoallergenic properties, since Baldwin is allergic.
Emilio went missing two weeks after Alec Baldwin fatally shot cinematographer Halyna Hutchins on the set of Rust. Emilio was later found with a broken leg. "We found him. Thank you to all of those who helped," she wrote in an Instagram caption. "I won't mention you because the paparazzi and tabloid media are calling every single connection to us, and I don't want you to be harassed too, in their frenzy to make more money."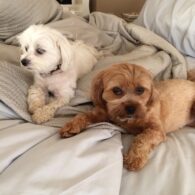 Dama and Gitana
Baldwin and his wife Hilaria have two tiny maltese dogs named Dama and Gitana. They're often seen on their Instagram accounts, as well as in paparazzi photos taking them for walks. One is caramel-colored while the other is white. Both fluffers have preceded Hilaria and Alec's 6 children together — they are their original babies.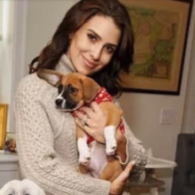 Diego Manchego Baldwin
Diego Manchego is a foster pup in the Alec-Hilaria Baldwin household. He's part pitty and all cute. On finding out Diego Manchego is a pitbull, Hilaria had this to say, "I have to say, finding out that Diego Manchego is predominately Pitt bull made me stop and think. I'm such an open and namaste animal lover that I never thought badly of this breed. Then all of a sudden, I find one in my home, and alarm bells ring. My mind can go from zero to wild imagination super fast. But just for a minute…because I quickly come back to reality and our delicious, sweet pup….I do believe that they have been given an unfair reputation. He is a kind soul, and we are a well equipped, loving family, who is ready to treat and teach him well. Would love to hear your tips, tricks and stories here."
There are rumours that Diego Manchego has been re-homed after not being seen in the Baldwin household for some time.
Hilaria Baldwin, born January 6, 1984, is an American yoga instructor, entrepreneur, podcaster, and author. She was the co-founder of a chain of New York–based yoga studios called Yoga Vida, and has released an exercise DVD and a wellness-focused book. She has been married to Alec Baldwin since 2012.