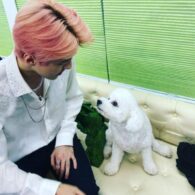 Vivi
Sehun has one dog, a Bichon Frise named Vivi. Sehun's love for Vivi has made the little puffball a superstar like him. Vivi famously appeared Sehun's EXO-SC solo MV "On Me". Sehun has been seen wearing clothes or accessories with designs of Vivi appearing on them, including shirts, sneakers, and his phone case. At EXO concerts, it's usual to have fans throw gifts on stage for them, with stuffed Bichon Frises often thrown for him.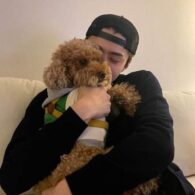 Mooshu
Mooshu, also known as Monsieur, is a mini-poodle that started appearing on Sehun's Instagram in March 2020. Sehun first posted a photo of Mooshu on April Fools Day 2020, saying he dyed his baby's hair. This made people wonder if he really dyed his actual dog Vivi's hair, as they both look similar. Sehun later admitted that he was fostering this brown dog for a friend going through a difficult time. He ended up looking after Mooshu for several months. It seems Sehun got pretty attached to him, as Mooshu still occasionally appears on his Instagram.
Sehun (Oh Se-hun) is a South Korean singer, dancer, and actor best known as a member of the K-pop boy group EXO. Sehun began training under SM Entertainment in 2008 and officially debuted with EXO in 2012. Throughout his career, Sehun has achieved numerous accolades, including two Mnet Asian Music Awards and two Seoul Music Awards. Outside of his musical career, Sehun is also an actor, appearing in films such as Dokgo Rewind and Swing Kids. He is also a model and has appeared in campaigns for brands such as L'Oreal and Reebok. Sehun is a passionate philanthropist and has been involved in many charitable activities, such as UNICEF and Smile for U, which provide support for children in need.