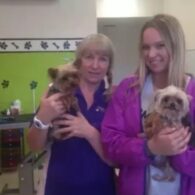 Boo and Pistol (Dog)
Quite possibly the most famous dogs of 2016, Boo and Pistol were part of an International incident involving Johnny Depp and Amber Heard when they illegally brought their dogs into Australia. The incident dubbed Terriergate, lead to the most awkward online apology the Internet has ever seen. Amber Heard was further charged with 2 counts of illegally importing the dogs as well as a hefty fine of AUS $102,000. Since the divorce, it's been rumored that Ms. Heard has been able to keep the dogs and Johnny Depp has been rumored to contest. The Yorkies arrived via private jet and were only discovered after their dog groomers HappyDogz posted the photo seen here to facebook.
Photo Credit: HappyDogz/Facebook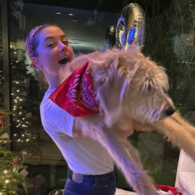 Barnaby Joyce (Dog)
If someone wrongs you, do you name your new dog after them? For Amber Heard, that's a solid, vindictive yes. Six years after Barnaby Joyce threatened to euthanize Pistol and Boo, the terriers at the center of Terriergate, Heard's named her new dog after Barnaby Joyce. We're not totally sure we get the joke, is dog-Barnaby a bit of a d*ckhead? Is it so Amber Heard can have him neutered? Is this man-Barnaby's worst nightmare, since he apparently hates dogs? We just hope she's not planning anything nefarious to happen to dog-Barnaby.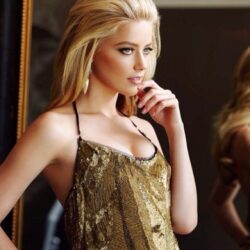 Birthday
April 22, 1986 (37)
Amber Heard is an American actress who goes by the alias Amber van Ree, even Amber Vanree, and apparently, Larisa Vanda. She is known for her tumultuous relationship with Johnny Depp.
Amber Heard Career
Amber Heard made her film debut in 2004 in the sports drama Friday Night Lights, starring Billy Bob Thornton. She has appeared in popular movies such as Zombieland and filmed with famous actors like Nicolas Cage and Woody Harrelson. She plays Mera in Aquaman and the Lost Kingdom alongside Jason Momoa, Willem Dafoe, and Patrick Wilson.
Pet Controversy
Heard was previously caught in a scandal when visiting then-boyfriend at the time, Johnny Depp. She was caught smuggling her two dogs, Boo and Pistol, into Australia despite being told several times not to do it. Heard was let off from the charges, which can result in up to 10 years in jail.
Since the Australian controversy, Amber Heard has gotten a new dog and named it after the Australian Prime Minister she was feuding with. The dog is called Barnaby Joyce.
Heard and Depp's divorce has been nasty news since it commenced on May 2016. The pair's split is now featured in a new documentary; Johnny vs Amber focuses on the breakdown of their two-year marriage — and the chaotic courtroom battle that followed. Apparently, Heard accused Depp of domestic abuse, and then Depp accused Heard of domestic abuse. Heard got Depp's dog, Boo, in the divorce, and allegedly turned around and gave him to her father, who has a history of abusing dogs. David Heard has been brought up on charges relating to a brutal pitbull fighting ring, and has also threatened to kill Johnny Depp.