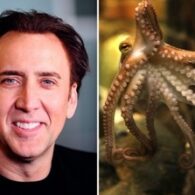 Cool the Octopus
Nicolas Cage reportedly purchased an octopus that helped his acting career for a high price tag of $150,000. He also named the octopus "Cool". For more, read our article on Cool the Octopus.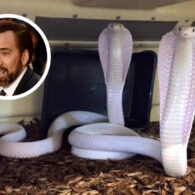 Moby and Sheba: Cobras
Nicolas Cage owned not one, but two, albino king cobras, known for their highly potent venom and an even higher price tag of $276,000. Cage has been reported to carry the antivenom on hand at all times. It's been reported that he had to give them up in 2008 after neighbors threatened to sue as they didn't like having two very lethal pets that could potentially escape into their homes.
I had to get rid of my pet cobras because my neighbours threatened to sue me. The cobras were called Moby and Sheba and I kept them in my house in Hollywood for about three years. I had to keep the antidote to their poison as well because if one of those guys bit you then you had 15 minutes before the curtains closed. I loved them. I'd watch them for hours.

I happened to mention them on 'The Late Show With David Letterman' and then it became a big neighbourhood problem. They threatened to sue me unless I got rid of them. I could see their point. I resolved the issue by giving the snakes to a zoo.

Nicolas Cage, The Courier Mail, 2008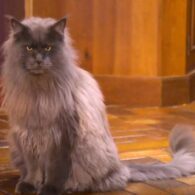 Merlin
Nicolas Cage has a big fluffy grey Maine Coon cat that 60 Minutes described as "A cat that could scare off a burglar". Merlin was adopted in 2017 from the OtiCami Maine Coon Cattery.
When interviewed by Lionsgate for his film The Unbearable Weight of Massive Talent, he was asked who his best friend is, "Well, My best friend is a cat. And his name is Merlin. He's an unusual cat. He's very affectionate. He loves contact. Sometimes he'll jump into bed and he'll hug me, you know? I'll actually think it's my wife. Nope, it's Merlin. And it's just an amazing, kind of loving, affectionate energy that's coming off of that cat. He's a real, a real sweetheart. So that's my best friend."
Huginn
Nicolas Cage has an African Pied Crow that's named after one of the Norse God Odin's two ravens (Huginn and Muninn). Hugin represents "Memory" and Munin represents "thought". It seems this African crow had a good memory, as Cage told Rolling Stone that whenever he says "bye" to Hugin, Hugin will remember to reply by calling him an "asshole". Cage, a self-identifying "goth", keeps his crow in a 16-foot geodesic dome in his living room. Cage has also said that Huginn enjoys eating his cat's food occasionally.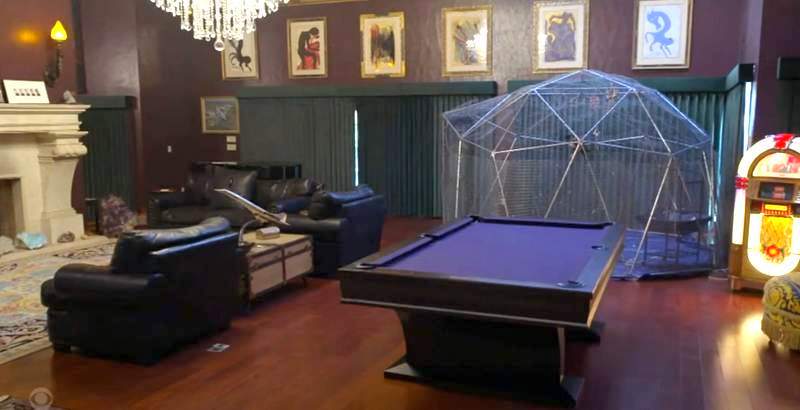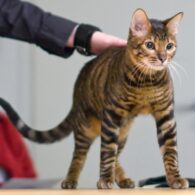 Tigra
Nicolas Cage has a pet Toyger cat named Tigra, but is sometimes spelled "Teegra". Toygers come from bleeding domestic shorthaired tabby cats to make them look like a "toy tiger", unlike Bengal cats which are the result of breeding a domestic and wild cat. Cage told Vanity Fair in 2019 that "One day I would like to have a Savannah or something a little bigger, but I am not there yet. I do love all animals…They inspire me…."
Note the Toyger shown is an example and not Cage's. Photo credit: Wikipedia.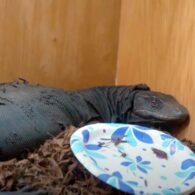 Black Dragon
In April 2023 on 60 Minutes, Nicolas Cage revealed he has a juvenile Monitor Lizard that he referred to as his "Black Dragon". While his little dragon is shown in a small terrarium, Cage mentions that Monitor Lizards will grow to around 6 feet… So hopefully Cage shares some updates as his scaly son grows up!
He'll get to be about 6 feet long. He's like having a real dinosaur in your house. It's kind of amazing. And he's alive.

Nicolas Cage, 60 Minutes, April 2023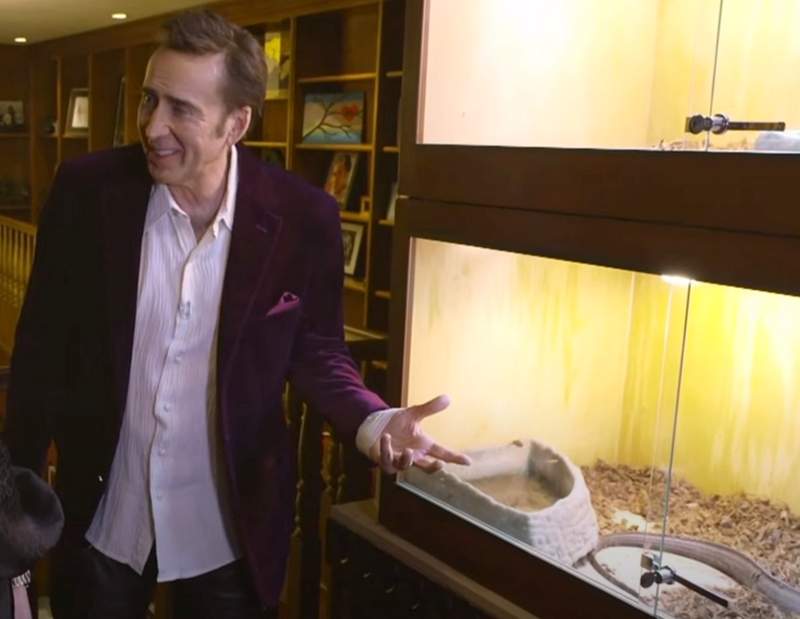 Razzmatazz
Nicolas Cage has said he's always loved cats. When he was a child, he saved a kitten and named him Razzmatazz, who he's also referred to as his best friend.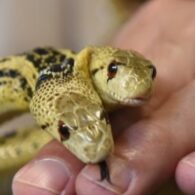 Harvey the Two-Headed Snake
In 2007, Nicolas Cage got an extremely rare two-headed Gopher Snake as a pet named Harvey, which had a price tag of $80,000. First, he had a dream about a two-headed eagle. Then the next day, he got a call from his reptile supplier who correctly thought he'd be interested in a two-headed snake. And of course, Cage has a reptile dealer guy who that would call him up.
The snake was named after the Batman villain Harvey Dent, aka Two-Face. Due to the difficulty of caring and feeding Harvey, he gave it (them?) to the Audubon Zoo in 2009. The challenge was feeding them, as the two heads would fight over food. So Cage would have to separate the heads with a spatula when it was mealtime. Harvey passed away in 2021 at the age of 14.
Photo Credit: Audubon Institute/Instagram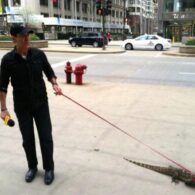 Michael
Nicolas Cage had a pet Speckled Asian Water Monitor Lizard named Michael that he got in 2008. Due to not having the time to care for the 5-foot lizard properly, he donated Michael to the Wildlife Discover Center in Lake Forest, Illinois in 2013. Michael then got the nickname "Grug" after Cage's animated character in The Croods.
And according to reports, Michael arrived via FedEx. Once the center received their new most popular attraction, they said Michael was a little roughed up from the trip, but was a happy and friendly lizard. He was even allowed out for leashed walks with fans in public (but under close supervision). Michael is pictured on a walk with Johnny B of WGN Radio in 2013. Photo Credit: Joe Romano/WGN Radio. Aquatic Pet Store Rescues
When the owner of Nicolas Cage's favorite aquatic pet store passed in late 2021 or early 2022, Cage adopted all the animals that weren't spoken for. This included his Pig-Nosed Turtle, a fish with a bum eye he felt bad for, and more aquatic critters.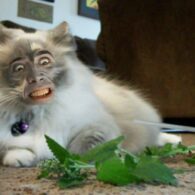 Lewis
Cat daddy Nicolas Cage used to have a cat named Lewis. While being interviewed by David Letterman in 2010, he told a story about taking magic mushrooms with Lewis. (And note the photo here is not of Merlin, but one of many photos of cats with Cage's face that you can find online that best illustrates his story.)
I do remember having a a bag of mushrooms in my refrigerator. My cat used to sneak into the refrigerator and steal the mushrooms. The cat ate them voraciously, so I thought what the heck, I better do it with him. I remember lying in my bed for hours and Lewis was on the desk across my bed for hours… Staring at each other – not moving – occationally go "meow" just staring at each other, and I had no doubt that he was my brother.

Nicolas Cage, The Tonight Show with David Letterman, 2010 Pomeranian
Nicolas Cage's wife Riko Shibata has a Pomeranian. In May 2023, Cage was interviewed on The Late Show with Stephen Colbert, where Colbert asked what his "Least favorite smell" is, Cage answered, "My wife's pet Pomeranian's crap". Colbert replied, "That's very specific", then Cage quipped, "Oh, it's specific". lol. Sugar Gliders (Flying Squirrels)
Nicolas Cage's wife Riko Shibata had two pet Sugar Gliders while living in Japan when the couple met. While not Cage's pets, they are an important part of the real-life canon of Nic Cage exotic pets. Cage also called them Flying Squirrels. Many people mix up the two species but note Flying Squirrels look more like a typical squirrel, while Sugar Gliders are smaller. We'd bet they're Sugar Gliders and Cage also said "flying squirrels" in case people didn't know what a Sugar Glider is.
It's unconfirmed if Riko still has them and if they live with the newlyweds in Las Vegas. Entertainment Tonight asked Cage in July 2021 about his new wife, who gushed about how when he first met her and found out they both loved interesting animals, he knew they'd get along.
She likes animals, too, so I asked her, 'Do you have any pets?' And she said, 'Yes, I have flying squirrels.' She had two sugar gliders… I thought, 'That's it. This could work out."

Nicolas Cage, Entertainment Tonight, July 2021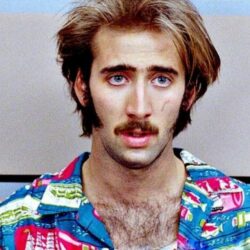 Birthday
January 7, 1964 (59)
Nicolas Cage, born Nicolas Kim Coppola, is an American actor and one of the GOATs (according to this writer). Cage is also one of the most prolific actors in Hollywood and has appeared in over 100 films, from Oscar winners, to direct-to-video releases, from romantic comedies to big-budget action. He has received an Academy Award, a Golden Globe, and Screen Actors Guild Award for his performance in Leaving Las Vegas (1995), which co-starred Elisabeth Shue. A sample of his notable filmography includes Face/Off (1997) with John Travolta, Con Air (1997) with John Cusack, The Rock (1996) with Sean Connery, National Treasure (2004) with Diane Kruger, Moonstuck (1987) with Cher, Adaption (2002) with Meryl Streep, Raising Arizona (1987) with Holly Hunter, Gone in 60 Seconds (2000) with Angelina Jolie, and The Unberable Weight of Massive Talent (2022) with Pedro Pascal.
Nicolas Cage's Animal Co-stars
Nicolas Cage is a big animal fan, especially when they're his co-star. For the 2021 movie Pig, Nicolas Cage co-starred with Brandy the Pig. He mentioned "She was very, like many of us, payment-oriented. She was interested in food really and food only, understandably. She wasn't that interested in people and I get that. But if they need a very soulful look in her eyes, off-camera, you could show her a bit of carrot. She seemed to like that. Brandy was her name. I enjoyed working with her, I love working with animals. Magical things happen when you have a scene with a dog or a cat. Any animal, really."
Cage was going to play Joe Exotic on Amazon's Tiger King series, but it has since been canceled. Whether or not he would have co-starred next to tigers remains unknown but we like to imagine he would have. Cage's movie Primal (2019) shows him next to a white jaguar whom he captures, but the big kitty was created with VFX.
Exotic Lifestyle
Cage is known for his extreme purchases including dinosaur skulls, expensive exotic animals, islands, jets, and castles. All of which — alongside a nasty battle with the IRS — ultimately brought him to his bankruptcy. Since then, Nicolas Cage has taken on a number of new movie roles which bounced his personal net worth back to an estimated $25 million. Quite the amazing return. Then in February 2023, Gunther VI, the world's richest dog, bought Cage's island in the Bahamas for $7.5 million.
In April 2023, Nicolas Cage was interviewed by 60 Minutes and gave the first public look at his exotic pets.