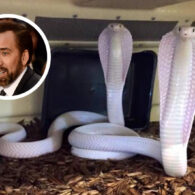 Moby and Sheba: Cobras
Nicolas Cage owned not one, but two, albino king cobras known for their highly potent venom and even higher price tag of $276,000. Cage has been reported to carry the antivenom on hand at all times. Since filing for bankruptcy, he was forced to give up his high-end snakes which were most likely donated to a proper caregiver.
Merlin and Tigra
Merlin is a Maine Coon who Cage has described as looking like a forest cat. Cage mentions Tigra is more like a jungle cat with her stripes and apparently is also his favorite. Cage admits that "One day I would like to have a Savannah or something a little bigger, but I'm not there yet." Huginn the crow was hatched from an egg, and Cage has bought him a 16-foot geodesic dome to fly around in. He reports that Huginn knows "a little language" and allegedly says hello and goodbye to Cage when he comes and goes.
Merlin was adopted in 2017 from the OtiCami Maine Coon Cattery.
Nicolas Cage has always loved cats. When he was little, he saved a kitten and named him Razzmatazz. Cage has since described him as his best friend.
Huginn
Nicolas Cage's crow is named after one of the Norse God Odin's two raven's. Cage has said that Huginn greets him with a "hi" when he walks into a room and a "goodbye" when he leaves and once laughed at him, calling him an "asshole." Despite making fun of Cage, Huginn has a 16-foot geodesic dome to fly around in. Razzmatazz
Razzmatazz was Nicolas Cage's childhood pet. As a child, Cage found and saved Razzmatazz, and now says, "he was my best friend."
Birthday
January 7, 1964 (58)
Nicolas Cage is also known as Nick Cage and was born as Nicolas Kim Coppola. He's known for his love for exotic pets, most notably his pet octopus. Cage is one of the longest standing actors in Hollywood and has appeared in everything from romantic comedies to high profile action movies. He has received an Academy Award, a Golden Globe, and Screen Actors Guild Award for his performance in Leaving Las Vegas (1995) and later in The Rock (1996), Face/Off (1997), Con Air (1997) and City of Angels (1998).
Nicolas Cage's exotic pets have ranged from the eight-legged to the no-legged with two exotic albino king cobras. But, the actors heart actually belongs to two kitty cats, Merlin and Tigra, and a crow named Huginn.
Nicolas Cage's Animal Co-stars
Nicolas Cage is a big animal fan, especially when they're his co-star. For the movie Pig, Nicolas Cage co-starred with Brandy the pig. He mentioned "She was very, like many of us, payment-oriented. She was interested in food really and food only, understandably. She wasn't that interested in people and I get that. But if they need a very soulful look in her eyes, off-camera, you could show her a bit of carrot. She seemed to like that. Brandy was her name. I enjoyed working with her, I love working with animals. Magical things happen when you have a scene with a dog or a cat. Any animal, really."
Cage was going to play Joe Exotic on Amazon's Tiger King but the series is now on hold. Whether or not he would have co-starred next to tigers remains unknown but we like to imagine he would have. Cage's movie Primal (2019) shows him next to a white jaguar whom he captures, but the big cat was created entirely in postproduction.
Exotic Lifestyle
Cage is known for his extreme purchases including dinosaur skulls, expensive exotic animals, islands, jets, and castles. All of which — alongside a nasty battle with the IRS — ultimately brought him to his bankruptcy. Since then, Nicolas Cage has taken on a number of new movie roles which bounced his personal net worth back to $25 million. Quite the amazing return.