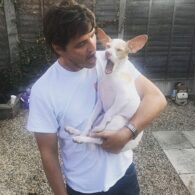 Edgar
If you see photos of Pedro Pascal with an adorable Yoda-eared dog, it's Edgar. Edgar was a shelter dog Pascal fostered and ended up keeping for a few years in the late 2010s. Pascal said Edgar didn't enjoy moving around so much for his work, so he had to rehome him but said he found him the perfect place. He first shared Edgar on Instagram in February 2018 with the caption "I think it's a dog". Pascal hasn't said when, but we estimate he rehomed Edgar around 2020. Pascal was also photographed by paparazzi while walking him.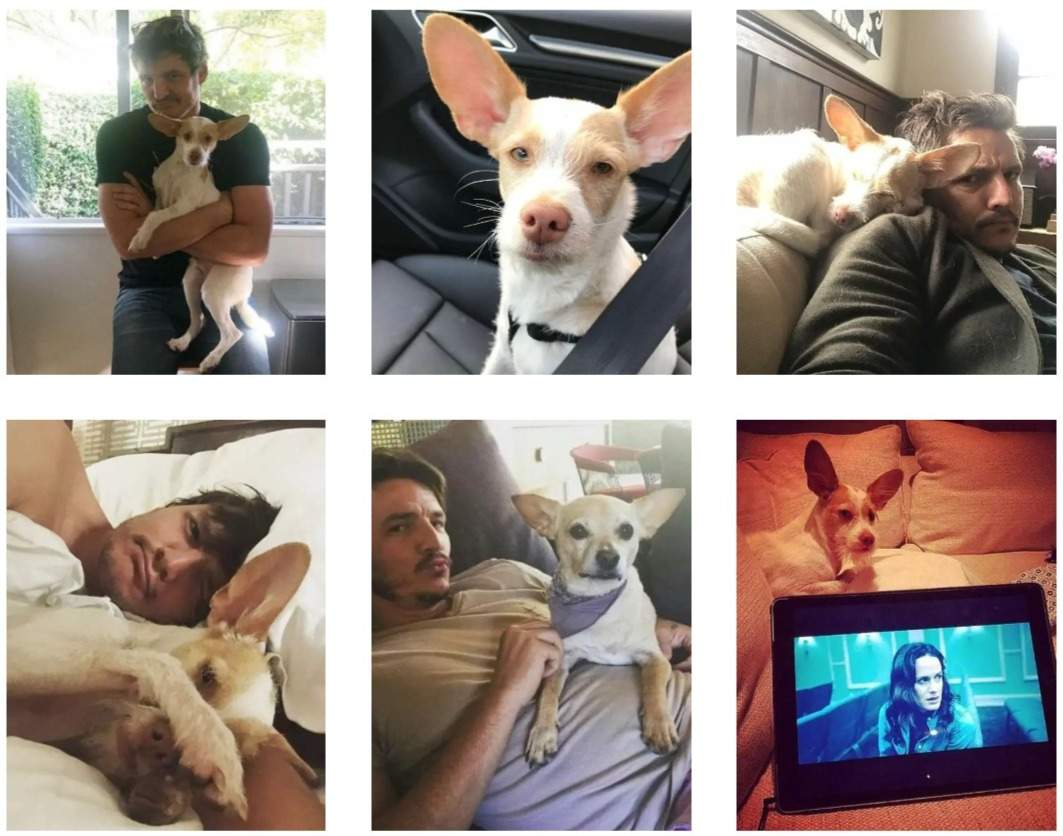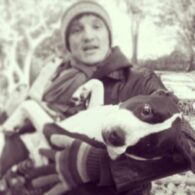 Gretta
The love of Pedro Pascal's life was a Pitbull-American Staffordshire Terrier mix breed named Gretta. In 2001, he adopted her while living in New York as he struggled to launch his acting career. Pascal said he was going through a really tough time after 9/11 and that when he was too broke to afford food, friends who ran a cheesecake bakery would give him and Gretta gourmet cheesecake to eat. Pascal posted a tribute on Instagram to Gretta when she passed away in December 2013 at the age of 12.
I've always had this weird worry that while I do love dogs generally, I'll never get over Greta. No other dog will live up to her!

-Pedro Pascal, Flaunt Magazine, March 2023
In a March 2023 interview with Flaunt Magazine, Pescal said this when asked about Gretta, "Her name was Greta. She was like a Pit mixed with an American Staffordshire Terrier. She was the most attractive f*cking dog. She was like a seal with floppy ears, and this kind of, it wasn't black and white, but espresso, almost purple brown [coat] with a white river that separated her temple, a snow-white neck and a pig pink belly, these white socks, and this little white tip at the tip of her tail. she was such a hottie. She was the coolest dog, man." and, "It was rough. I felt so bad for her. She was the love of my life actually. People in the neighborhood would help me out and walk her when I was doing a double shift, brunch and dinner in Times Square, which was quite a schlep from Red Hook."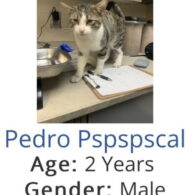 Cats
Many fans wonder if Pedro Pascal has a cat or if he likes cats. In a 2014 Reddit AMA, when asked about cats, he said he likes cats but is allergic to them.
"Well, I LOVE Dogs like there's no tomorrow. And unfortunately I have an allergy to cats, although I find them to be beautiful creatures."

-Pedro Pascal, Reddit AMA, 2014
Pictured here is a rescue cat that got quickly adopted after he went viral for having the name Pedro Pspspscal in March 2023.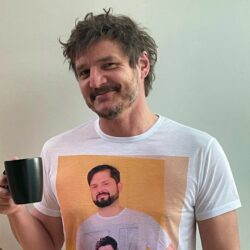 Birthday
April 2, 1975 (48)
Pedro Pascal is a Chilean-American actor who gained International recognition for his role as Oberyn Martell on the fourth season of the HBO fantasy series "Game of Thrones," alongside Emilia Clarke, Kit Harington, Maisie Williams, and Sophie Turner. His portrayal of the charismatic and deadly character was widely praised by critics and audiences alike. He went on to star in a number of other notable projects, including the Netflix series "Narcos" and the film "Kingsman: The Golden Circle."
In 2019, Pascal was cast as the lead in the Disney+ series "The Mandalorian." He played the titular character, a lone bounty hunter who takes on various jobs in the Star Wars universe. The show was a massive success, earning critical acclaim and a large fan following. Pascal's performance was widely praised, and he has become one of the most recognizable faces in the Star Wars franchise.
Pascal has worked with a number of celebrities throughout his career. He appeared alongside Matt Damon and Julianne Moore in the film "Suburbicon," and worked with Nicolas Cage in the film "The Unbearable Weight of Massive Talent." He also starred alongside Emma Stone in the Netflix series "Maniac," and worked with Gal Gadot in the DC Comics film "Wonder Woman 1984." In addition, Pascal has collaborated with fellow "Game of Thrones" alumna Lena Headey on the film "The Flood."
In 2023, he starred as Joel in the HBO series The Last of Us, playing opposite Bella Ramsey as Ellie.