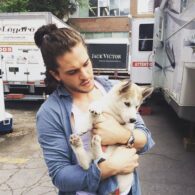 Ghost
Kit says he'd love a dog of his own, but spends too much time on the road to give it enough love. He does get along great with his four-legged costars on Game of Thrones though. Cooper played the role of his Dire wolf "Ghost" in the first four seasons. His breed was a Northern Inuit, which is like a cross between a German shepherd and malamute. When filming of the Northern scenes moved from Ireland to Alberta, Canada for seasons 5 and 6, Quigley was cast for the role of Ghost, who is an arctic wolf.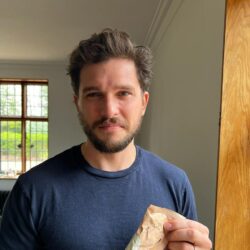 Birthday
December 26, 1986 (36)
Christopher Catesby "Kit" Harington is an English Actor. Best known for his leading role as Jon Snow on HBO's Game of Thrones, he has an estimated net worth of $4 million. After only one leading theater role in War Horse 2008, he managed to land his first on-screen role as Jon Snow. In this role, he is half-brother to Sansa Stark, played by Sophie Turner and Arya Stark, played by Maisie Williams.
Premiering in 2011, Game of Thrones is entering its 7th season in 2017. His success in this role has made him one of the highest paid TV actors, earning $1.1 million per episode in season 7. His co-stars Peter Dinklage, Emilia Clarke, Lena Headey and Nikolaj Coster-Waldau all will bring home the same paycheck.
Harington began a relationship with his Game of Thrones co-star Rose Leslie in 2011. They announced their engagement through the 'Forthcoming Marriages' section of The Times on 27 September 2017.