 No Pets (Rodger Bumpass)
Rodger Bumpass does not have any reported pets.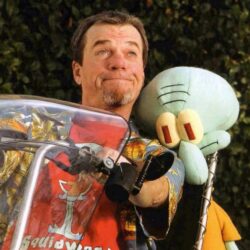 Birthday
November 20, 1951 (71)
Rodger Bumpass is an American actor, whose career has been largely defined by his dynamic vocal performances in animation, most notably the character Squidward Tentacles in Nickelodeon's wildly popular series "SpongeBob SquarePants."
As an animation veteran, Bumpass has had an influential career beyond "SpongeBob SquarePants," working across a wide variety of animated features, television series, and video games. His resume boasts characters in beloved series such as "The Jetsons," "Teenage Mutant Ninja Turtles," "The Simpsons," and "Invader Zim," just to name a few. Yet, his work extends to films such as "The Emperor's New Groove," "Treasure Planet," and "Monsters, Inc." Bumpass has also lent his vocal talents to video games, including the "Kingdom Hearts" series.
Bumpass' rich career in the animation industry has allowed him to collaborate with a plethora of celebrated talents. Tom Kenny, Bill Fagerbakke, Clancy Brown, Carolyn Lawrence, and Mary Jo Catlett have shared the microphone with him in the creation of the underwater world of Bikini Bottom in "SpongeBob SquarePants." Other remarkable collaborations include James Earl Jones in "The Lion King 1 1/2," John Goodman in "Monsters, Inc.," Billy West in "Futurama," and Tress MacNeille in "The Simpsons." On the video game front, he has worked alongside talented voice artists such as Haley Joel Osment and David Gallagher in the "Kingdom Hearts" series.
Bumpass' illustrious career has not gone unnoticed. In 2012, his interpretation of Squidward Tentacles earned him a nomination for an Annie Award, one of the highest honors in animation, for Voice Acting in a Television Production. This milestone served as a testament to his dedication and skill in the realm of voice acting, acknowledging his impact in the industry that stretches across generations.