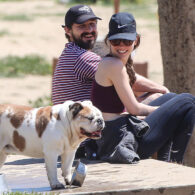 Brando (Dog)
Not much is known about Shia Labeouf's big English bulldog named Brando. We do know he's had him since the late 2000s and he's missing his left eye. We imagine he's named after the late legendary actor Marlon Brando. Shia seems to be good buddies with his bulldog, often seen walking him, sneaking him food and even carrying him.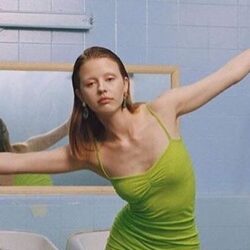 Birthday
October 25, 1993 (30)
Mia Goth is a British actress and model, distinguished by her compelling performances in a spectrum of films, from independent ventures to Hollywood blockbusters. Known for her breakout role in the film 'Nymphomaniac.'
Goth's professional acting career began with her spellbinding performance as 'P' in Lars von Trier's two-part drama film 'Nymphomaniac' in 2013. Her capacity to portray raw emotion and vulnerability earned her recognition in the industry. In 2015, she starred in the horror film 'A Cure for Wellness,' demonstrating her ability to carry complex roles in high-stakes narratives. Goth's talent for imbuing her characters with a compelling blend of strength and fragility shone through in the 2018 science fiction horror film 'High Life,' where she played the character of Boyse. Meanwhile, in the 2018 remake of the supernatural horror film 'Suspiria,' she showcased her versatility as Sara, a dancer drawn into a world of supernatural terror.
Throughout her career, Goth has collaborated with a host of celebrated figures in the industry, a testament to her professional reach. Her work with acclaimed director Lars von Trier on 'Nymphomaniac' marked the start of her cinematic journey. She starred alongside Oscar-winner Shia LaBeouf in 'Nymphomaniac,' who she later married. Her role in 'A Cure for Wellness' saw her work with esteemed director Gore Verbinski and actor Dane DeHaan. In 'High Life,' Goth worked with revered French director Claire Denis and shared screen space with actors Robert Pattinson and Juliette Binoche. Her role in 'Suspiria' led to a collaboration with renowned director Luca Guadagnino and actress Dakota Johnson. She also had the opportunity to act opposite Oscar Isaac and Charlotte Gainsbourg in 'The Card Counter,' directed by Paul Schrader.
Despite her relatively young career, Goth has received several noteworthy recognitions that underscore her acting prowess. In 2014, the British Independent Film Awards nominated her as the Most Promising Newcomer for her role in 'Nymphomaniac.' Moreover, her performance in 'Suspiria' earned her a nomination for Best Supporting Actress at the 44th Saturn Awards.