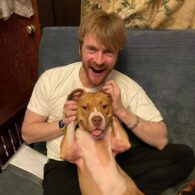 Peaches (Dog)
Claudia Sulewski and FINNEAS adopted a female pitbull named Peaches from a pet shelter in December 2019. The couple shared their journey and excitement about their new pet through multiple YouTube vlogs, including "VLOG: MY DREAM DOG!!" and "ARE WE READY TO ADOPT?!". These videos provide an intimate look at their life with Peaches and their enthusiasm for pet adoption. Peaches is often seen with Finneas' sister Billie Eilish and her Pitbulls.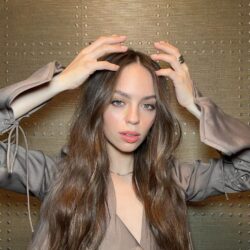 Birthday
February 19, 1996 (27)
Claudia Sulewski is an American YouTuber, vlogger, and actress, whose unique blend of fashion, beauty, and lifestyle content has garnered her a significant online following.
Sulewski's career on YouTube skyrocketed as she tapped into the zeitgeist of fashion, beauty, and lifestyle vlogging. She has ventured into acting, with roles in projects such as "tagged," an American teen psychological thriller web series. Her YouTube channel features makeup tutorials, fashion hauls, and lifestyle videos, which resonate with a younger audience looking for authenticity and relatability. Over the years, her channel has expanded to include travel vlogs and personal growth discussions.
She has collaborated with an impressive array of celebrities and influential individuals in various fields. Among them are Shane Dawson, an influential YouTuber and documentary filmmaker, and beauty mogul James Charles. Sulewski has also collaborated with Manny Gutierrez, Patrick Starrr, Tana Mongeau, and Joey Graceffa, all prominent figures in the beauty and YouTube communities. Beyond the realm of YouTube, she's worked with mainstream stars like Lilly Singh and Lele Pons. In the fashion world, she's teamed up with the likes of Hailey Baldwin and Gigi Hadid, adding a different dimension to her career.
Sulewski has received a nomination for the Shorty Awards, which honors top content creators and producers on social media. Her channel also caught the attention of Teen Vogue, which offered her a platform to reach an even wider audience by featuring her in their articles and video segments.