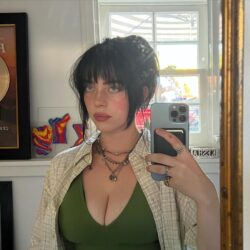 Birthday
December 18, 2001 (21)
Billie Eilish is an American musician, best known for her work with her producer and brother Finneas O'Connell. Eilish entered the spotlight with the release of her debut single, "Ocean Eyes," a song initially crafted for her dance routine, but eventually uploaded to SoundCloud in 2016 due to overwhelming demand. The track's instant success set the stage for her first EP, Don't Smile at Me, in 2017. The following years saw the release of her full-length album, When We All Fall Asleep, Where Do We Go?, which produced numerous hit singles, including the notable "Bad Guy." The song not only topped the Billboard Hot 100 but also positioned Eilish as a new force to reckon with in pop music. Her subsequent album, Happier Than Ever, released in 2021, further cemented her status, with tracks like "Your Power" demonstrating her ability to combine profound emotion with pop sensibilities.
Throughout her career, Eilish has worked in close collaboration with her brother, Finneas O'Connell, who has produced and co-written most of her songs. Other significant collaborations include teaming up with Khalid for the track "Lovely," Justin Bieber for a remix of "Bad Guy," and Rosalia for "Lo Vas a Olvidar." Eilish has also worked with the filmmaker Takashi Murakami, who directed the music video for her single "You Should See Me in a Crown," and fashion designer Alessandro Michele, leading to her prominent presence at the Met Gala in 2021.
Eilish's creative efforts have been recognized with multiple awards and honors. In 2020, she made Grammy history by becoming the first artist born in the 21st century, and the second artist ever, to win all four major categories – Record of the Year, Album of the Year, Song of the Year, and Best New Artist – in a single night. Further recognition came in 2021 when she won the Grammy for Record of the Year for the second time. Eilish has also made her mark on film, earning a Golden Globe nomination for her theme song "No Time to Die" for the James Bond film of the same name.
Apart from her music, Eilish is known for her advocacy for animal rights. She has used her platform to raise awareness about animal cruelty, particularly in the fashion industry. She adheres to a vegan lifestyle and has frequently spoken out against animal fur in clothing. Eilish also expressed her support for animal rights organizations, such as PETA, in various interviews and social media posts. Her love for animals extends to her personal life too, where her rescued Pitbull, Shark, often features on her Instagram account, shedding light on the breed that is often misunderstood.