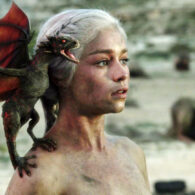 Drogon, Rhaegal, Viserion
As Daenerys Targaryen, Mother of Dragons, she has three pet dragons. Drogon is black with red markings. He's named after her late-husband Khal Drogo and happens to be the one she likes to ride. Viserion is cream white with gold markings and is named after her brother Viserys Targaryen, who is killed by Drogo in season 1 of Game of Thrones. The third dragon is Rhaegal with green and bronze markings and is named after her brother Rhaegar who doesn't appear on the TV series.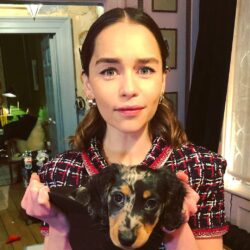 Birthday
October 23, 1986 (36)
Emilia Isabelle Euphemia Rose Clarke is an English actress. She is best known for her leading role as Daenerys Targaryen on HBO's Game of Thrones, which has earned her an estimated net worth of $3 million. After only a few theater roles and small TV roles, she got her lucky break in 2010. Originally Tamzin Merchant was cast as Daenerys, but was replaced by Emilia after. Premiering in 2011 and going into its 7th season in 2017, its success has made her one of TV's highest paid actors. She is set to earn $1.1 million per episode this season, along with her leading costars Kit Harington, Peter Dinklage, Lena Headey and Nikolaj Coster-Waldau.