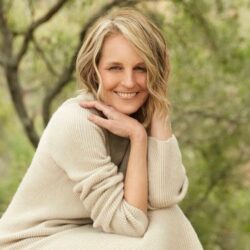 Birthday
June 15, 1963 (60)
Helen Hunt is an American actress who has made a lasting impact in Hollywood. Her impressive career spans over four decades, during which she has garnered critical acclaim and won numerous awards. Hunt has had many breakout roles in film and television, including her role as Jamie Buchman in the hit sitcom "Mad About You," for which she won four Emmy Awards. She has also had success on the big screen, starring in films such as "As Good as It Gets," "Cast Away," and "Twister," among others.
Hunt has collaborated with a variety of other artists and celebrities throughout her career. She has worked with actors such as Jack Nicholson, Tom Hanks, Bill Paxton, and Paul Reiser. Hunt has also directed and produced several films, including "Then She Found Me" and "Ride."
In addition to her animal advocacy work, Hunt is also a passionate advocate for social and environmental causes. She has been involved with organizations such as Oceana, an ocean conservation group, and the Women's Media Center, which works to ensure women's voices are heard in media. Hunt has also been a vocal advocate for women's rights, speaking out on issues such as equal pay and reproductive rights.