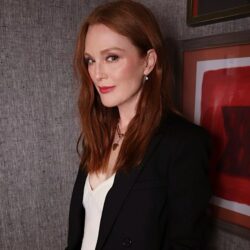 Birthday
December 3, 1960 (62)
Julianne Moore is a highly accomplished actress. Moore's breakout role came in 1995 when she starred in the film "Safe," directed by Todd Haynes. The film, which explored themes of illness and isolation, was a critical success and launched Moore's career to new heights. She followed up this performance with standout roles in films such as "Boogie Nights," "Magnolia," and "The Hours," earning numerous award nominations and wins.
Moore's collaborations with other artists and celebrities have also been a highlight of her career. She has worked with some of the biggest names in Hollywood, including Tom Cruise, Jeff Bridges, and Mark Ruffalo. She has also been a frequent collaborator with directors such as Todd Haynes, Paul Thomas Anderson, and the Coen brothers.
In addition to her acting career, Moore is also an advocate for animals and supports numerous animal non-profit organizations. She has used her platform to raise awareness about animal welfare issues and promote animal rights. Moore has been a longtime supporter of the organization PETA (People for the Ethical Treatment of Animals) and has spoken out against animal testing and cruelty. She has also been a vocal supporter of the Best Friends Animal Society, a nonprofit organization dedicated to ending the killing of dogs and cats in America's shelters.
She is the recipient of numerous accolades, including an Academy Award, a British Academy Film Award, two Golden Globe Awards, and two Emmy Awards. In 2015, Time magazine named her one of the 100 most influential people in the world, and in 2020, The New York Times named her one of the greatest actors of the 21st century. She is married to director Bart Freundlich, with whom she has two children.