Ren
Ren was a rescue that Emma and Andrew Garfield adopted for Christmas 2012 while they were dating. They had actually fostered the dog for a year before officially adopting him from Spot! Dog Rescue of Los Angeles. Ren is a pure bred that was surrendered to a high-kill shelter in California and is now lucky to have loving humans with Stone and Garfield, even if they're now separated.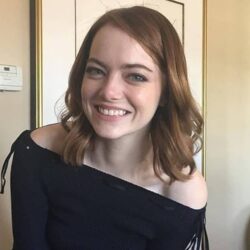 Birthday
November 6, 1988 (34)
Emma Stone is an American actress and winner of numerous awards including an Academy Award, a British Academy Film Award, and a Golden Globe Award. She was named in Time magazine's 100 most influential people in the world in 2017.
She made her Hollywood debut in the 2007 comedy "Superbad," which co-starred Michael Cera and Jonah Hill. She quickly saw more and bigger roles, starring in movies such as "The House Bunny," "Ghosts of Girlfriends Past," "Zombieland", "Easy A" with Lukas Gage, The Amazing Spiderman," and more. Her leading role in 2016's "La La Land," led to a Best Actress Oscars nomination with co-star Ryan Gosling nominated for Best Actor. In 2021, she starred in "Cruella," playing opposite Emma Thompson.
She is also known for her relationship with Andrew Garfield, who she co-starred with in "The Amazing Spiderman." They dated for four years and adopted a golden retriever together named Ren.