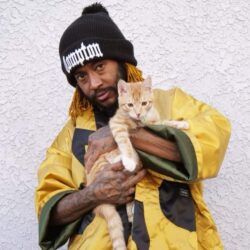 Birthday
October 19, 1984 (38)
Thundercat (real name Stephen Lee Bruner) is an American musician, singer, and songwriter from Los Angeles, California. He is best known for his unique style of bass playing and his ability to blend multiple genres such as jazz, funk, soul, and hip-hop.
Thundercat began his music career as a teenager playing bass guitar for the band Suicidal Tendencies. In 2011, he released his debut solo album, "The Golden Age of Apocalypse," which was produced by Flying Lotus. This album was critically acclaimed and showcased Thundercat's signature style.
Thundercat's second album, "Apocalypse," was released in 2013 and featured collaborations with artists such as Flying Lotus, Erykah Badu, and Pharrell Williams. The album received widespread critical acclaim, and Thundercat's unique sound gained even more attention in the music industry.
In 2015, Thundercat released "The Beyond / Where the Giants Roam," a six-track EP that featured contributions from jazz pianist Herbie Hancock and fellow bassist, MonoNeon. The EP was well-received by critics and further solidified Thundercat's reputation as one of the most innovative bassists of his generation.
Thundercat's third album, "Drunk," was released in 2017 and featured collaborations with artists such as Kendrick Lamar, Michael McDonald, and Wiz Khalifa. The album was a commercial and critical success and received a nomination for Best Urban Contemporary Album at the 2018 Grammy Awards.
Thundercat is also known for his live performances, which are highly energetic and showcase his improvisational skills as a musician. He has performed at various music festivals such as Coachella, Bonnaroo, and Glastonbury.