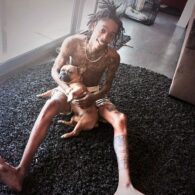 Max B
Max B joined the Taylor Gang in January 2016. While he looks like a frenchie, he's actually a rare mini-English bulldog. This rare type of bulldog can cost from $10,000 to $20,000. While not as popular as his Vincent, he's managed to stack up over 15,000 Instagram followers in just over a year.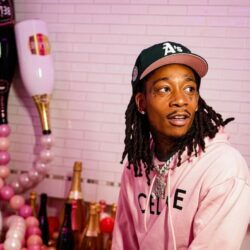 Birthday
September 8, 1987 (36)
Cameron Jibril Thomaz, better known as Wiz Khalifa, is an American rapper and hip hop artist. He is a known dog lover with bullies as his favourite breed. Of his three dogs, his French Bulldog named Vincent has become a celebrity of his own with almost 56,000 Instagram followers. Wiz achieved mainstream success in 2010 with his single "Black and Yellow" which reached number one on the US Billboard Hot 100. Some of his most recent awards include two Billboard Music Awards in 2017 and two Teen Choice Awards in 2015.
Wiz Khalifa Career and Personal Life
Wiz started his rap career in the mid-2000s with his first mixtape out in 2005 titled Prince of the City: Welcome to Pistolvania. He followed up with his debut album the next year with Show and Prove. In 2009, Khalifa released the mixtape Burn After Rolling where he raps over familiar beats from other artists, including Beyoncé and Drake. The year after his 2010 success with his single "Black and Yellow" he released his first studio album called Rolling Papers, which opened at number too on the US Billboard 200 Chart.
Over the years, Khalifa has also made small appearances in films and documentaries such as Demi Lovato's documentary Demi Lovato: Simply Complicated and more recently in the television shows Dickinson, Duncanville, and The Masked Singer.
Khalifa is also well known for his public relationship with model Amber Rose who he married in 2011, had a child with in 2013 and divorced in 2014.