 Rose
Sam Kiszka has a dog named Rose.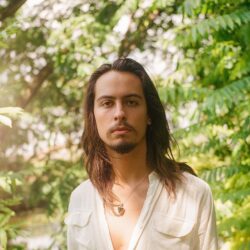 Birthday
April 3, 1999 (24)
Sam Kiszka is an American musician recognized as the bassist and keyboardist for the rock band Greta Van Fleet, hailing from Frankenmuth, Michigan. His musical journey began in earnest with the formation of Greta Van Fleet in 2012, alongside his brothers Josh Kiszka and Jake Kiszka, and drummer Danny Wagner. The band's debut single, "Highway Tune," skyrocketed to the top of the Billboard US Mainstream Rock and Active Rock charts in 2017, heralding the start of a promising career.
Kiszka's musical prowess is widely celebrated through the band's discography which includes the critically acclaimed albums; "Anthem of the Peaceful Army" and "The Battle at Garden's Gate." These albums have showcased a modern take on classic rock, infused with thematic elements that reflect both personal and societal introspection. The sonic architecture crafted by Kiszka has been a cornerstone in defining the unique sound of Greta Van Fleet.
Sam Kiszka has engaged with a variety of individuals within and beyond the music sphere. Notable interactions include working with esteemed producer Al Sutton, and music engineer Marlon Young. Additionally, the band's performances have often seen them share stages with iconic figures such as Elton John, who they performed with at Elton John's Academy Awards viewing party in 2018. Others include interactions with Tom Hanks, and Justin Bieber.
The journey of Greta Van Fleet, with Sam Kiszka at the helm of its rhythmic section, has been acknowledged through several awards and distinctions. They received the Grammy Award for Best Rock Album with their EP "From The Fires" in 2019.