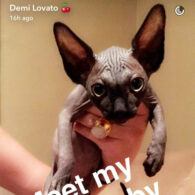 Little Lovato
In April 2016, Demi Lovato unveiled her brand-new Sphynx kitten on Snapchat. Unfortunately, Demi was forced to return her the very next day due to serious allergies. But memories last forever, and even though it may have only been a day, I'm sure Demi will remember how she felt when she first saw the hairless critter.
Batman
For Demi Lovato's 23rd birthday on August 20, 2015, her boyfriend Wilmer Valderrama gifted her an adorable Yorkipoo puppy named Batman. The couple had a Maltese mix dog together named Buddy which had a tragic accident earlier in the year. Batman was first spotted on Lovato's Twitter and he has made headlines since adoption.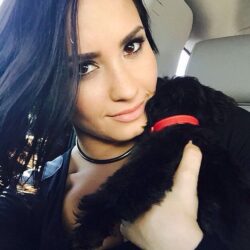 Birthday
August 20, 1992 (31)
Demi Lovato was born as Demetria Devonne Lovato. She's known to like smaller, fluffier dogs. Lovato is a famous singer, songwriter, and actress whose debut single and duet "This is Me" with Joe Jonas peaked at number nine on the Billboard Hot 100.
As an influential figure in the music industry, Demi Lovato's career has been characterized by a series of notable collaborations with other celebrities, which have resulted in some outstanding musical pieces. One such collaboration was with Joe Jonas on the track "This Is Me" from the Disney movie "Camp Rock," which became a chart-topper and a defining moment for both stars. Additionally, Lovato teamed up with pop star Selena Gomez for the duet "One and the Same," a track that resonated deeply with their shared fan base and further established their identities as separate artists. Lovato's collaboration with UK artist Cher Lloyd on the track "Really Don't Care" was another standout moment in their career, demonstrating their ability to cross genres and appeal to a wide audience. Another compelling collaboration was with Fall Out Boy on the remixed version of "Irresistible."
Working alongside Luis Fonsi, Lovato ventured into Latin pop with the song "Échame la Culpa," which topped the Billboard Hot Latin Songs chart and gained a nomination for the Latin American Music Award. Their ability to blend with different music styles was again highlighted when they joined forces with Clean Bandit on "Solo," a track that topped charts in several countries, including the UK. The joint venture with Sam Smith for "I'm Ready" was an exciting fusion of both artists' vocal prowess, while their partnership with Marshmello on "OK Not to Be OK" was a soulful exploration of mental health themes. Lovato's collaboration with Ariana Grande on "Met Him Last Night" further underscored their ongoing evolution as an artist and their capacity to create powerful, emotive music.
Demi Lovato's Dogs
Demi Lovato has a history of loving tiny fluffy pups. She got Cinderella, a white maltipoo, in 2017. Previously, in 2015 she got Batman (not to be confused with this batman), a black yorkipoo. Batman's adoption followed the tragic death of her beloved maltipoo, Buddy. Following a coyote attack, Buddy passed. Demi Lovato has a tattoo commemorating the pup on her ankle.
Despite only being born in 1992, Demi Lovato has had many trials and tribulations in her young life. She has stated
"I'm on my ninth life" after suffering three strokes and a heart attack during her 2018 overdose.
Demi Lovato's Dogs Saved her from a Burglary
Despite their tiny size, Demi Lovato's dogs saved her from a burglar. In July 2017, a man attempted to break into her home by scaling a security fence and then climbing a ladder to her balcony. Once he was on the balcony, Cinderella and Batman alerted the rest of the household by absolutely losing their shit. They woke up Demi Lovato's live-in property manager who alerted the police.
Lovato and the Turkey Controversy
Around Thanksgiving, the internet roasted Demi Lovato for posting two very different photos of a turkey. The first was her and a turkey named Sandy posing at a sanctuary for farm animals.
Lovato's caption read "I recently visited @farmsanctuary, which is the first animal rescue specifically for farm animals in the U.S. I spent the day with cows, goats, sheep, pigs, donkeys, and turkeys, who were all rescued from cruelty.
The highlight of my tour was cuddling with a rescued turkey named Sandy. Not only are these animals cute, but they are forgiving. The animals at @farmsanctuary had to learn to trust humans after what they'd been through, and their strength and resilience is amazing! Check out adoptaturkey.org or @farmsanctuary's page for more information! #AdoptATurkey."
The second photo Demi came under fire for was one of her Thanksgiving feast featuring a roasted turkey, with the writing "Thankful for you all". Hopefully the bird featured wasn't Sandy.
Demi Lovato History
Demi Lovato, born August 20, 1992, is an American singer, songwriter and actress. She made her debut as a child actress in Barney & Friends. She rose to prominence in 2008 when she started in the Disney Channel television film Camp Rock and signed a recording contract with Hollywood Records. Musically, Lovato is a pop, pop rock, and R&B artist. Lovato has won a number of awards, including an MTV Video Music Award, 13 Teen Choice Awards, five People's Choice Awards, an ALMA Award, and a Billboard Touring Award. In 2013, Maxim ranked her 26th on its Hot 100 list and Billboard ranked her second on its Social 50 Artists of the Year list.