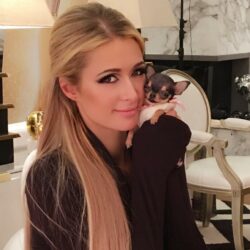 Birthday
February 17, 1981 (42)
Paris Whitney Hilton is an American media personality, reality TV star, fashion influencer, entrepreneur, socialite, DJ, model, chef, and iconic fur mom born on February 17, 1981. She is the great-granddaughter of Conrad Hilton, who founded Hilton Hotels. She started modeling at age 19 and gained international attention when her then-boyfriend Rick Salomon, released a sex tape of her without her consent. She went on to star in the hit reality TV series "The Simple Life" from 2003 to 2007 with her friend Nicole Richie. Hilton was also notably friends with Kim Kardashian, who went on to achieve international fame via a sex tape and reality TV show. Besides media production, she has launched a wide range of consumer goods, including clothing, perfume, and makeup, along with 45 boutiques. Most recently, she hosts her own podcast, This is Paris, and a Netflix cooking show, Cooking with Paris. She's also considered to have started the modern "influencer" economy. Hilton currently tours internationally as a DJ. Her mom is Kathy Hilton and her sister is fashion designer Nicky Hilton Rothschild.
How many dogs does Paris Hilton have and what are their names?
Paris Hilton currently has 14 dogs, of which breeds are mainly chihuahuas and pomeranian, with one pug, one miniature pinscher, and one pomsky. Paris has four chihuahuas, and their names Prada, Peter Pan, Dolce, and Prince Tokyo Gizmo. Paris has seven Pomeranians, and their names are Princess Paris Jr., Prince Hilton, Marilyn Monroe, Baby Bear, Baby Luv, Crypto Hilton, and Ether Reum. She also has Mugsy (a pug), Dollar (mini pinscher), and Slivington (pomsky). This count doesn't include her most famous pooch Tinkerbell, a chihuahua, that passed away in 2015 at the age of 14. Also, her chihuahua Diamond Baby went missing in September 2022 and was never found, and her long-haired chihuahua Harajuku Bitch passed away in May 2023. And all her dogs live lavishly in a $325,000 custom doggy mansion in her backyard.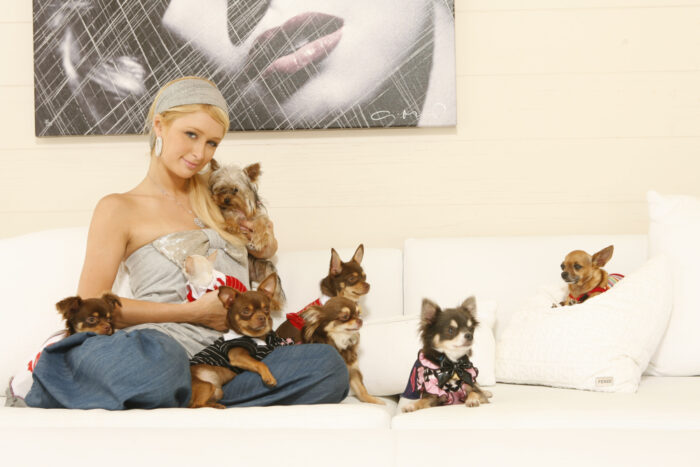 What other pets does Paris Hilton have?
While clearly a dog lover, Paris loves animals of all kinds. She has three pet cats, Princess Annabelle, Munchkin (aka Shorty), and Cutesy. She has a pet miniature pig called Princess Piglet and a miniature horse called Lady Coco Chanel. She also has a collection of 20 pet bunnies.
What exotic animals does Paris Hilton have?
Paris had a few exotic pets in her lifetime. In her early teens, she had a pet chimpanzee. As a teen, she also had a pet ferret named Cinderella. In the 2000s, she had two pet kinkajous, which are cute cousins of raccoons. She also previously had a pet Opossum and African Grey Parrot named Hank.