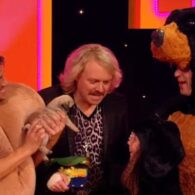 Dog Prize
In 2012, Leigh Francis gave away a pug puppy as a prize in the ITV1 programme Keith Lemon's Lemonaid. While Francis defended the prize and the show, animal activists immediately began Tweeting and reaching out to the show. A spokesperson for the show eventually responded with, 'An independent, qualified vet visited each home in advance of the show to conduct a thorough check before the rehoming process, to ensure that each family understood the commitment and responsibility involved.'
Leigh Francis, known professionally as Keith Lemon, is an English comedian, actor, writer, and television presenter. He created the Channel 4 comedy show Bo' Selecta! (2002–2009). He is also known for Celebrity Juice (2008–present), Through the Keyhole (2013–2019), Lemon La Vida Loca (2012–2013), The Keith Lemon Sketch Show (2015–2016), and The Keith & Paddy Picture Show (2017–2018).
At the start of his career, Leigh Francis started producing sketches for Comedy Central and eventually signed a deal with Channel 4 to produce a series based on his characters. He launched the show Bo' Selecta! which created a strong following and loyal fans.
Following the Bo' Selecta!, Leigh Francis created a new show with one of characters, Keith Lemon. He launched the comedy show Keith Lemon's Very Brilliant World Tour, which aired on ITV2 in 2008.