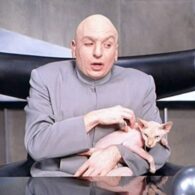 Mr. Bigglesworth (Ted Nude-Gent) (Cat)
Mike Myers hasn't revealed or discussed any pets he might have publicly, but he has one famous fictional cat from his Austin Powers films. Playing his own nemesis Dr. Evil, he had a cat named Mr. Bigglesworth. While the cat in the film was introduced as a fluffy white Persian cat, Mr. Bigglesworth loses all his fur after Dr. Evil and he are unfrozen from a cryogenic chamber. The hairless Sphynx cat that appears in the rest of the film's real name is Ted Nude-Gent, a play on the name of rock musician Ted Nugent. Ted had no previous acting experience but had several months of training to be able to sit and relax with Dr. Evil as he ranted about his diabolical plans and screams at his henchmen. With Austin Powers a huge blockbuster film at the time, Mr. Bigglesworth also gained worldwide fame and had his own line of merch made, including hats, t-shirts, and plush toys.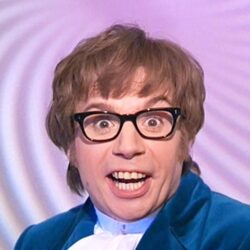 Birthday
May 25, 1963 (60)
Michael John Myers is a Canadian comedian, actor, screenwriter, and producer. He's best known for creating and starring in the Wayne's World and Austin Powers films. Austin Powers also starred Elizabeth Hurley, Seth Green, Heather Graham, and Beyonce. He's also well known for voicing Shrek in the Shrek franchise and for performing on Saturday Night Live from 1989 to 1995, during which he won him a Primetime Emmy Award. Shrek also starred Cameron Diaz, Eddie Murphy, Antonio Banderas, and John Lithgow. Most recently, Myers created, produced, and starred in the Netflix miniseries The Pentaverate, which also featured Keegan-Michael Key. Myers was added to the Hollywood Walk of Fame in 2002 and to Canada's Walk of Fame in 2003.