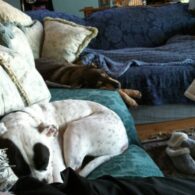 Dogs
In the 2000s/early 2010s, Keegan-Michael Key had two dogs. The black and tan dog is named Levi, also known as Sheriff Levi and Lollypop. The white dog looks like it could be an American Bully and its name is unknown. With this photo from 2012, we'd guess both dogs have since passed away. Key hasn't shared any info or photos on any current dogs.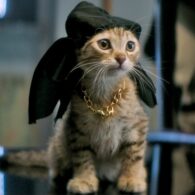 Keanu
While not technically a pet or real, Keanu is a famous animated cat, voiced by Keanu Reeves. The film, titled Keanu (2016), was written by Jordan Peele and stars Peele and Keegan-Michael Key. While named after Reeves, the film originally didn't have him as the voice of the cat. After his sister showed him the trailer, Reeves got in touch with the producers, then his voice was added in before its official release.
Keegan-Michael Key is an American actor, comedian, writer, and producer who rose to fame through his work on the sketch comedy series "Key & Peele" alongside Jordan Peele. Key was born and raised in Detroit, Michigan and started his career in the entertainment industry in the late 1990s.
Key began his career in theater, performing in a number of stage productions in Chicago. He then moved on to television, where he appeared in a number of guest roles on popular shows such as "ER," "The Drew Carey Show," and "Mad TV." He also had a recurring role on the hit sitcom "Gary Unmarried."
In 2012, Key teamed up with Jordan Peele to create the sketch comedy series "Key & Peele," which became an instant hit. The show ran for five seasons, from 2012 to 2015, and was praised for its unique brand of humor and biting social commentary. Key and Peele also collaborated on a number of successful films, including the comedy "Keanu", with Keanu Reeves.
Throughout his career, Key has worked with a number of high-profile artists, athletes, actors, and celebrities. He has appeared on "Saturday Night Live" multiple times and has worked with comedians such as Amy Poehler, Tina Fey, Mike Myers, and Will Ferrell. Key has also appeared in films with celebrities such as Liam Neeson, Anna Kendrick, and Jason Bateman.
In addition to his work in comedy, Key has also become known for his dramatic acting. He received critical acclaim for his performance in the 2019 film "Dolemite Is My Name," and has also appeared in dramas such as "The Predator" and "The Prom."