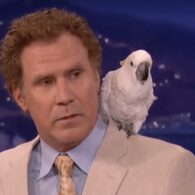 Professor Don Feathers
Professor Feathers is a cockatoo who once made an appearance on Conan O'Brien. Allegedly, Professory Feathers does not like the spotlight so little is known about him. Ferrell refuses to acknowledge the bird on his shoulder throughout the segment, although a rumor was started by Adam MacKay that Ferrell has a rare bird collection valued at $7.8 million. McKay stated that Ferrell's favorite bird out of the group was a Turkey Vulture named Gregory.
Will Ferrell is an American actor, comedian, producer, and writer. He was first recognized for his role on Saturday Night Live from 1995 to 2002, although he was discovered by SNL for his role in the comedy troupe The Groundlings. Ferrell's also well known for his roles in comedy films such as Anchorman: The Legend of Ron Burgundy (2004) with Paul Rudd, Christina Applegate, Steve Carell, David Koechner, and Fred Willard; Talladega Nights (2006); Step Brothers (2008) with John C. Reilly; The Other Guys (2010) with Mark Wahlberg; Anchorman 2: The Legend Continues (2013); Get Hard (2015); and Daddy's Home (2015). He writes most of his comedy with creative partner Adam McKay. McKay and Ferrell also founded the website Funny or Die (2007). They used McKay's daughter Pearl for the controversial video The Landlord (2007).
Ferrel is a part of the Frat Pack, a Hollywood comedy group including Ben Stiller, Jack Black, Owen Wilson, Luke Wilson, and Vince Vaughn. The Frat Pack was coined by USA Today in 2009.
Ferrell's extensive film career also includes acting in Elf (2003), Old School (2003), Blades of Glory (2007), Stranger than Fiction (2007), Megamind (2010), and The Lego Movie (2014). He has three sons, Magnus Paulin Ferrell (March 7, 2004), Mattias Paulin Ferrell (December 30, 2006), and Axel Paulin Ferrell (January 23, 2010) with wife Viveca Paulin.