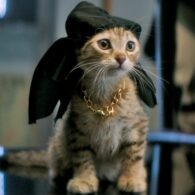 Keanu
While not technically a pet or real, Keanu is a famous animated cat, voiced by Keanu Reeves. The film, titled Keanu (2016), was written by Jordan Peele and stars Peele and Keegan-Michael Key. While named after Reeves, the film originally didn't have him as the voice of the cat. After his sister showed him the trailer, Reeves got in touch with the producers, then his voice was added in before its official release.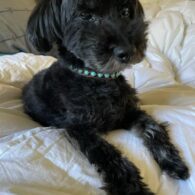 Dog - Unknown Name
Married couple Chelsea Peretti and Jordan Peele have one rescue dog. Peretti refuses to tell the public what their dog's real name is because she "doesn't want people to be able to call him". In an interview, Peretti stated "he thrives on adrenaline" so the duo walk through dangerous neighbourhoods so he can "get his fix".
When she adopted him, she said he promptly "pooped on the floor, and attacked another dog." She knew he was the perfect fit. The dog was also the ring bearer at their beach wedding, where the dog wore a cute little Hawaiian shirt.
Jordan Haworth Peele is an American actor, comedian, and filmmaker. He's famous for his work in comedy and horror, including TV shows such as Key & Peele with Keegan-Michael Key and feature films such as Get Out, starring Daniel Kaluuya. His career started in improv comedy in the early 2000s, before joining the cast of MAD TV. He became well-known for creating and starring in the Comedy Central series Key & Peele (2012-2105). He created and starred in the film Keanu alongside Keegan-Michael Key and starring Keanu Reeves, Tiffany Haddish, and Will Forte. His screenwriting and directorial debut, Get Out (2017) received universal acclaim from fans and critics, going on to win the Academy Award for Best Original Screenplay and making him the first African-American to do so. He went on to write and direct Us (2019) starring Lupita Nyong'o and Elisabeth Moss. His most recent film is Nope (2022) starring Daniel Kaluuya, Keke Palmer, and Steven Yeun.
He's also known for his marriage to comedian and actress Chelsea Peretti, with who he has one human child and one dog with.