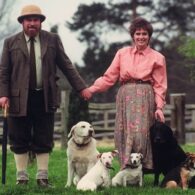 Family of Dogs and Cats
Brian Blessed has had dogs, cats, and wild animals living with him since he was a child. This was captured in 1990 with his wife Hildegarde Neil and their dogs, prior to his Everest expedition.
During a #BookBreak Special Edition, Brian joined the series to talk about some of the special pets in his life: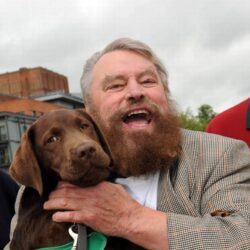 Birthday
October 9, 1936 (87)
Brian Blessed is a British actor and writer best known for his booming voice and larger-than-life characters in productions like "Flash Gordon" and the Shakespearean play "Henry V."
In his career, Blessed has made his mark across the spectrum of entertainment, from stage to screen. His roles in films like "Flash Gordon," where he played Prince Vultan, and "Star Wars: Episode I – The Phantom Menace" as Boss Nass have made him a cultural icon. On television, he's graced series such as "Z-Cars" and "Blackadder," portraying characters that are as unforgettable as they are diverse. His theatrical performances are equally riveting, having played both King Lear and Old Deuteronomy in "Cats" on stage.
The richness of Blessed's career is, in part, due to his collaborations with a variety of celebrated artists. These include Kenneth Branagh in "Henry V," where he played Exeter; Alec Guinness in "Star Wars: Episode I – The Phantom Menace;" and Peter Capaldi in "The History of Tom Jones, a Foundling." Additionally, he has worked with Rowan Atkinson in "Blackadder," Mel Gibson in "Hamlet," Helen Mirren in "As You Like It," Peter Ustinov in "Logan's Run," Sylvester McCoy in "Doctor Who," and Patrick Stewart in "Macbeth."
Brian Blessed is not only an Officer of the Order of the British Empire (OBE), but he also holds honorary degrees from several universities. One of the most endearing awards he received was the Spirit of Hammer Award from the Metal Hammer Golden Gods Awards in 2017, which is as eclectic as the man himself. Furthermore, he has won the Best Actor award at the Monaco International Film Festival for his role in "Much Ado About Nothing."