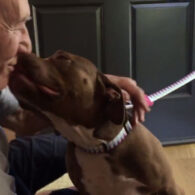 Ginger
Ginger is a rescued pit bull that Patrick Stewart was fostering in March 2017 while she waits for her forever home. Stewart said this was the first dog he's looked after in 50 years, but got along with Ginger right away.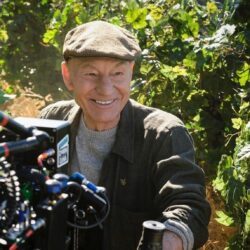 Birthday
July 13, 1940 (82)
Sir Patrick Stewart is an English actor. Though his acting career that continues after almost 60 years, he has earned an estimated net worth of $60 million. After getting into acting in his teen years, he went on to join the Royal Shakespeare Company in 1966 and performed with them until 1982. In 1967 he made his first TV appearance on Coronation Street. He acted in many BBC shows and films through the 70s and 80s, before some major film roles in the late 80s.
He became a well-known name in the States when he landed the leading role as Captain Jean-Luc Picard in Star Trek: The Next Generation, which ran until 1994. He also played the captain in four Star Trek feature films though the 90s. His most notable role since has been as Professor X in the X-Men series of movies, co-starring Hugh Jackman, Ian McKellen and Halle Berry. He has played this role in seven X-Men films, with Logan said to be his last.