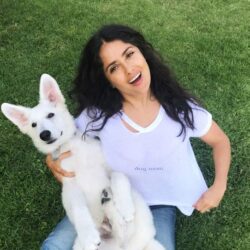 Birthday
September 2, 1966 (56)
Salma Hayek is a Mexican actress known for a variety of popular films and TV shows, including "Frida," for which she was nominated for an Academy Award for Best Actress. Hayek's other notable film credits include "Desperado," "From Dusk Till Dawn," "Dogma," and "Grown Ups."
Throughout her career, Hayek has worked with a number of high-profile individuals in the entertainment industry. She has starred alongside actors such as Antonio Banderas, Penelope Cruz, and Colin Farrell, and has worked with directors such as Robert Rodriguez, Quentin Tarantino, and Julie Taymor.
Aside from her work in film, Hayek is also an accomplished producer, having produced numerous projects through her production company, Ventanarosa. She has also been recognized for her philanthropic work, particularly in the areas of women's rights and environmental conservation. In 2005, she was awarded the Women in Film Lucy Award for her efforts in promoting the role of women in the entertainment industry.
Hayek is married to Francois-Henri Pinault, the CEO of Kering, which owns luxury brands such as Gucci, Balenciaga, and Yves Saint Laurent. Hayek and Pinault have one daughter named Valentina.