 Farm Animals
In a 1978 interview, Tom Waits jokes about the cats and dogs on his ranch.
"I had a dog once, but he died, I barbecued him. We never had enough room for livestock. I used to have a couple stray cats. Tom cats. I'd go on the road and come back and they'd always be pissed at me."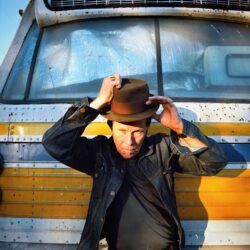 Birthday
December 7, 1949 (73)
Tom Waits is a legendary American singer-songwriter, musician, and actor who has been active in the music industry for over five decades. His unique blend of rock, blues, and experimental music, combined with his distinctive gravelly voice and lyrical prowess, has earned him a devoted following and critical acclaim throughout his career.
Waits' impressive body of work includes over 20 studio albums, several live albums, and numerous collaborations with other artists and celebrities. Some of his most notable albums include "Rain Dogs," "Swordfishtrombones," and "Mule Variations," which have all been praised for their innovation and creativity.
Throughout his career, Waits has collaborated with a diverse range of musicians and artists, including Bette Midler, Elvis Costello, Mick Jagger and Keith Richards of The Rolling Stones. He has also been a frequent collaborator with his wife, Kathleen Brennan, who has co-written many of his songs and produced several of his albums.
In addition to his music, Waits has also made a name for himself as an actor, appearing in several films and television shows over the years. His acting credits include roles in movies like "The Outsiders," "Bram Stoker's Dracula," and "The Ballad of Buster Scruggs," as well as guest appearances on TV shows like "The Simpsons" and "Portlandia."