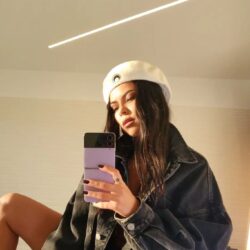 Birthday
October 16, 1986 (37)
Elena Apostoleanu, professionally known as INNA, is a Romanian singer and songwriter who gained global recognition for her chart-topping single 'Hot.' One of INNA's notable contributions to the music industry lies in her expansive discography, where each album signifies a distinct evolution of her artistic prowess. 'Hot,' her debut studio album, catapulted her onto the global stage, with the title track dominating music charts in multiple countries. Her subsequent albums, such as 'I Am the Club Rocker,' 'Body and the Sun,' and 'Nirvana,' further solidified her place in the music world. The track 'Cola Song,' featured in the 'LatINNA' album, notably went viral.
Over her career, INNA has collaborated with a multitude of artists, showcasing her versatility and ability to adapt to various music styles. Collaborative projects include artists such as Daddy Yankee on the track 'More than Friends,' J Balvin in 'Cola Song,' and Flo Rida in 'Club Rocker.' Other collaborations include those with Yandel in 'In Your Eyes,' Pitbull in 'Good Time,' Erik in 'Ruleta,' Reik in 'Dame Tu Amor,' and Alexandra Stan in 'We Wanna,' showcasing a wide spectrum of music genres. Further collaborations have occurred with Carla's Dreams for the song 'Tu si Eu' and with Juan Magán for 'Be My Lover.'
INNA's music journey has been punctuated with numerous awards that underscore her exceptional talent. For instance, she clinched the Eurodanceweb Award in 2008 for the hit song 'Hot' and won the Best Romanian Act at the MTV Europe Music Awards twice in 2009 and 2011. Her song 'Diggy Down' won the Best Dance Track at the Media Music Awards in 2015, underlining her strength in the dance music genre.
Beyond her music career, INNA has been actively involved in advocating for animal rights and welfare. She is a vocal supporter of animal adoption, often using her platform to promote various animal shelters in Romania. Notably, she partnered with the non-profit organization 'SOS Dog Romania,' raising awareness for stray dogs' plight and encouraging responsible pet ownership.