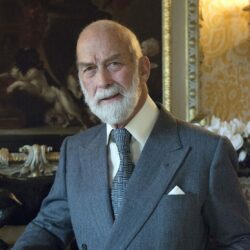 Birthday
July 4, 1942 (81)
Prince Michael of Kent, GCVO, CD is a member of the British royal family, who is 52nd in the line of succession to the British throne as of February 2022.
Michael occasionally represents the Queen at some functions in Commonwealth realms outside the United Kingdom. Otherwise, he manages his own consultancy business and undertakes various commercial work around the world. He has also presented some television documentaries on the royal families of Europe. On 16 June 2022 it was reported by The Telegraph that Prince and Princess Michael of Kent planned to "retire from public life." While unconfirmed, it was also speculated that the retirement would be timed to coincide with his 80th birthday on July 4, 2022.
Other members of the royal family include King Charles III, Prince William, Duke of Cambridge, Prince Harry, Duke of Sussex, Sarah, Duchess of York, the late Queen Elizabeth II, Kate Middleton, Catherine, Duchess of Cambridge, and Meghan Markle, Duchess of Sussex.