Piggy and Stella
Robert and Bindi Irwin (children of famed zookeepers Steve and Terri Irwin) have two dogs. One is a Cavalier King Charles Spaniel named Piggy. The other is a pug named Stella.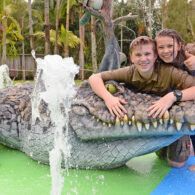 Australia Zoo
Australia Zoo is a 700-acre zoo located in Queensland, Australia. It's owned and run by Terri Irwin, the widow of Steve Irwin, and their children Robert and Bindi. The zoo is also the setting for the Irwin family's Discovery Channel reality series Crikey! It's the Irwins. It was originally founded by Steve Irwin's parents, Bob and Lyn Irwin, in 1970 with the name Beerwah Reptile Park. It was eventually renamed Queensland Reptile and Fauna Park, before becoming the Australia Zoo when Steve and Terri took over in the 1990s. In 2004, they opened the Australian Animal Hospital next to the zoo, which cares for up to 6,000 animals per year.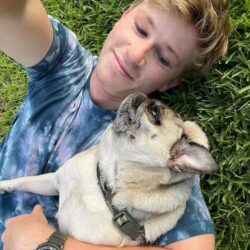 Birthday
December 1, 2003 (19)
Robert Clarence Irwin is an Australian zookeeper, conservationist, TV personality, and wildlife photographer. He's known as the son of the late Steve Irwin the famous zookeeper and TV personality known as "The Crocodile Hunter". His sister Bindi and mother Terri are also famous for their family's life-long work with animals. In 2012 at the age of nine, Robert starred alongside Bindi and Terri in Steve Irwin's Wildlife Warriors, an Australian TV series dedicated to his late father. Robert, Bindi, and Terri currently star on the Animal Planet reality TV series Crikey! It's the Irwins (2018-present) which documents their lives and work at the Australia Zoo. He became more well-known in the United States in 2014 at the age of 11, with the first of many appearances on The Tonight Show Starring Jimmy Fallon.