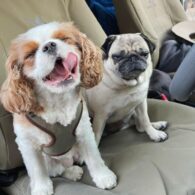 Piggy and Stella
Robert and Bindi Irwin (children of famed zookeepers Steve and Terri Irwin) have two dogs. One is a Cavalier King Charles Spaniel named Piggy. The other is a pug named Stella.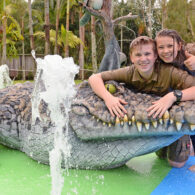 Australia Zoo
Australia Zoo is a 700-acre zoo located in Queensland, Australia. It's owned and run by Terri Irwin, the widow of Steve Irwin, and their children Robert and Bindi. The zoo is also the setting for the Irwin family's Discovery Channel reality series Crikey! It's the Irwins. It was originally founded by Steve Irwin's parents, Bob and Lyn Irwin, in 1970 with the name Beerwah Reptile Park. It was eventually renamed Queensland Reptile and Fauna Park, before becoming the Australia Zoo when Steve and Terri took over in the 1990s. In 2004, they opened the Australian Animal Hospital next to the zoo, which cares for up to 6,000 animals per year.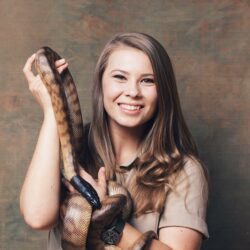 Birthday
July 24, 1998 (24)
Bindi Sue Irwin is an Australian zookeeper, TV personality, singer, and conservationist. She's known for being part of the Irwin family with her brother Robert, mother Terri, and her late father Steve Irwin, also known as The Crocodile Hunter. Along with her mom and brother, she runs the Australia Zoo, which was originally founded by her grandfather Bob Irwin. They also all star in the Discovery Channel reality TV series Crikey! It's the Irwins (2018-present).
Her name "Bindi" comes from her father's favourite female crocodile at the Australia Zoo. Her middle name "Sue" is a tribute to her parents' beloved dog "Sui" who passed away in 2004 at the age of 15. Like her brother Robert, she started working with animals and TV since she was a baby. She first appeared on TV at 2 years old on her parents' show The Crocodile Hunter Diaries. She also has a music career and released her first album at 8 years old called Bindi Kid Fitness with Steve Irwin and The Crocmen. She released her fourth album, Bindi and The Jungle Girls – Bindi's Island Dance Party in 2016.