Since going viral last December for a video of her flying Business Class on Turkish Airlines, Fifi Little Darling has been an in-demand Dachshund. She's since been featured on CNN, the NY Post, and The Drew Barrymore Show.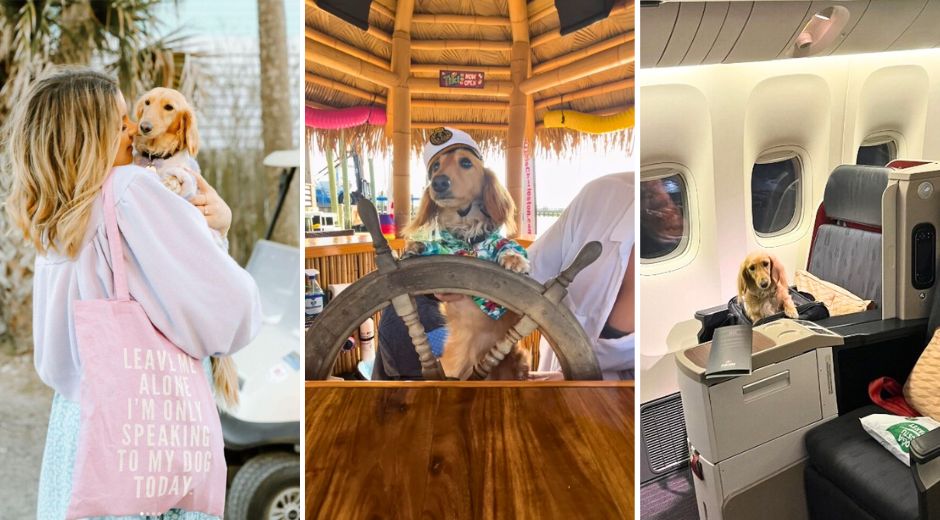 But the Celebrity Pets team got lucky, as Fifi managed to squeeze in an interview during one of her many layovers. Helen (Fifi's human) shares Fifi's history, tips for canine air travel, and being a therapy dog. Then we chat with Fifi to get her side of the story. And in case you somehow missed it, check out her headline-grabbing video below:
Celebrity Pets: To start us off, let's take it back to the beginning. Tell us a bit about Fifi and how you met.
Helen: I first set my eyes on Fifi in June 2020. She was 1, and her eyes melted my heart, and I knew I had to adopt her! She's just celebrated her 4th birthday! I hosted a party for her and invited all of the Dachshunds in our local area of Charleston, South Carolina – 80 Little Darlings were there – and it was lovely. We had a balloon installation for photograms, amazing doggie treats, edible dog beef-flavored bubbles. Human treats included champagne and personalized Fifi biscuits matching the green and purple color theme.
Celebrity Pets: What makes Fifi special to you? Does she have any funny quirks?
Helen: Fifi is very special to my husband and me, as she has been there for us during hard times when we lived in Hong Kong during covid, and it was very challenging. But she would always make everything okay! She is very loving and affectionate. She loves snuggling on my lap or sleeping on my pillow when I go to bed. She's quite cheeky sometimes and enjoys barking at squirrels!
Fifi has the biggest heart and is just the best companion; she enjoys cuddles on my lap and snuggles with me in bed. She makes me laugh as occasionally when she does the biggest sigh!
She can be cheeky sometimes and enjoys hiding her toys underneath the sofa and TV cabinet out of reach and barks until someone retrieves them – and does it over and over again.
Celebrity Pets: Can you share a story that captures your pet's personality?
Helen: She is a professional napper- she LOVES her sleep. She will sleep most of the day, during car rides, and throughout long-haul flights.
Celebrity Pets: What are your top tips for air travel with a dog?
Helen: Water/food: Limit so there aren't any accidents, as there are no toilets on planes! Toilet: Make sure your dog uses the toilet before the flight and goes as soon as the plane lands. Night time: Plan your flight around your dog's regular sleeping pattern. Warm clothes or jumper: Planes can get cold, so pack a blanket and cute knits for your pup to wear to feel warm and cozy.
Celebrity Pets: So Fifi is a "therapy dog" and not a "service dog"? Can you fill in for our readers who might confuse the two?
Helen: Fifi is a therapy dog which means she provides therapy to others. In Hong Kong, she was registered with the dog therapy program through Asia Animals called Doctor Gog, where she would attend care homes, schools, and hospitals. She has recently passed her US therapy dog alliance certificate, and she's attended several sessions at care homes. She is also a resident therapy dog at Charleston International Airport. She provides comfort and happiness to passengers and family members at the airport. She is very social and enjoys saying hi to everyone, and adores the attention.
Service dogs, unlike therapy dogs, provide assistance to one person. For example, a guide dog helps with guiding its owner who is blind. Service dogs are allowed to travel on airplanes no matter the size and don't need to be in a dog carrier because they are working dogs that are needed to provide medical assistance to their owner.
Celebrity Pets: What is the process like for getting Fifi certified as a therapy dog? And have any tips or considerations for anyone thinking of doing the same?
Helen: The process is pretty straightforward. First, you have to provide proof of a clean police certificate. Next, provide that your dog is up to date with all its vaccinations and have a vet check to prove that they are fit for the program. Then there is a test to make sure that the handler and the dog are well suited to therapy dog work. Following this, if you have passed the therapy test, you can attend therapy sessions with an observer who will sign you off once completed. Do research your local therapy dog program, as different states and countries will vary.
Celebrity Pets: Now some questions for Fifi. What was the experience like of taking your first flight?
Fifi: Well, it was strange at first being woken up to take a taxi to a busy, bright building with lots of people checking on me and they even had the cheek to weigh me – rude! But after all that commotion was over my human wheeled me around the airport, and we made some friends, I did my business, and my human was really really happy (she's weird).
We went down a long tunnel and I was wheeled through onto a room that had lots of round windows and lots of seats. After arriving in our weird pod thing I don't remember much as I must of dozed off and then there was a big jolt and I was wheeled off and needed to wee, I held it in until we found an area that was appropriate, and I left my mark like the other pups had and it was the best wee ever! Human said I'm such a good girl (she's so easy to please).
Celebrity Pets: So far, what has been your favorite airline and why?
Fifi: So far Turkish airlines, the staff was so friendly onboard and let me out of my cage so I could sleep on human's head throughout the flight – yay!
Celebrity Pets: Do you have a fav destination?
Fifi: I loved visiting the UK as everyone there is obsessed with me – they love to give me treats and I've met lots of what human calls 'relatives', I know we aren't blood-related but that doesn't matter, they are very fun to play with! I experienced this cold fluffy white stuff which mum went crazy for, it was okay – I even took a nap on the 'snow' when I was wearing my warm jumper and waterproof jacket!
You sound like you need a therapy dog. "You're Crocs, I'm Gucci". The haters are just jealous… Humans can be strange.

Fifi Little Darling – when asked if she has a message for her haters
Celebrity Pets: Now onto some personal questions beyond your jet-setting adventures. Do you have a special talent or do any tricks?
Fifi: Apart from sleeping a lot? I do have the power to magically make a puppuccino appear! Mum said it's my puppy eyes that do it – But I'm not just a puppy – I'm a magician!
Celebrity Pets: So if you're up to spill the tea… What's the naughtiest thing you've done?
Fifi: Human says I'm the goodest girl. There aren't any naughty dogs in the world – we are all here to love – unfortunately, humans sometimes train us to do naughty things.
Celebrity Pets: Outside of travel and therapy work, what projects, hobbies, or recreational activities are you interested in?
Fifi: Zoooooooooommieeess!!!! I love to run around the beach. Apparently, I look cute with sand on my nose, but it keeps me cool. I'm not a fan of the water as it scares me, but I love to dig in the wet sand – I'm really good at it and can cover everyone in sand!
Celebrity Pets: What's your dream job or project?
Fifi: I would like to get into fashion and modeling, but I'm not sure I have the time with my nap schedule… That's demanding enough.
Celebrity Pets: When your life story is turned into a feature film, what celebrity would play you?
Fifi: I think I would be Drew Barrymore as she has a big heart like me, and she's pretty too, but maybe not as furry as me?
Celebrity Pets: And guess what: Fifi was recently featured on The Drew Barrymore Show!
Celebrity Pets: If you hosted a TED Talk, what would the topic be?
Fifi: The Powers of Puppuccino Magic!
Celebrity Pets: If you were stuck on a deserted island, what are the 5 essential items you'd take?
Fifi: Snacks, snacks, snacks, and snacks. Oh yeah, and more snacks.
Celebrity Pets: When you're hungry, what are your go-to treats and food?
Fifi: PUPPUCCINO !!! The American ones are wayyyyy better than the European ones!
Celebrity Pets: And when you're relaxing or getting some exercise, what are your favorite toys and accessories?
Fifi: I love my toy squirrel. It's a handy pillow too when relaxing on a flight.
Celebrity Pets: If you just won the lottery, what's the first thing you'd buy or do?
Fifi: PUPPUCCINOS FOR EVERYONE! But seriously, I would make sure all my fur buddies are taken care of around the world. Sadly so many of us end up in shelters and rescue centers, we just want to be loved. Please remember dogs aren't possessions – we are not a toy for Christmas – we are for life!
Celebrity Pets: Imagine you host the late-night talk show Friday Nights with Fifi. Who would be your first guest?
Fifi: Definitely my online pen pal, Gunther VI (he's well loaded – maybe I can be his sugar baby?)
You miss 100% of the naps you don't take.

Fifi Darling – on what advice she'd give to her younger self
Celebrity Pets: Is there a charity or non-profit organization you'd like to give a shoutout to?
Fifi: there are so many! Definitely Animals Asia and The Alliance of Therapy Dogs.
Celebrity Pets: Are there any pets you're a fan of that you'd like to give a shoutout to?
Fifi: I love my main man @Worldwide_Winston. He's a serious traveler like me and his mum is very kind to my mum.
Celebrity Pets: On your Instagram story highlights, you shared a therapy animal event you attended in Hong Kong with @animalsasia. Can tell us about it?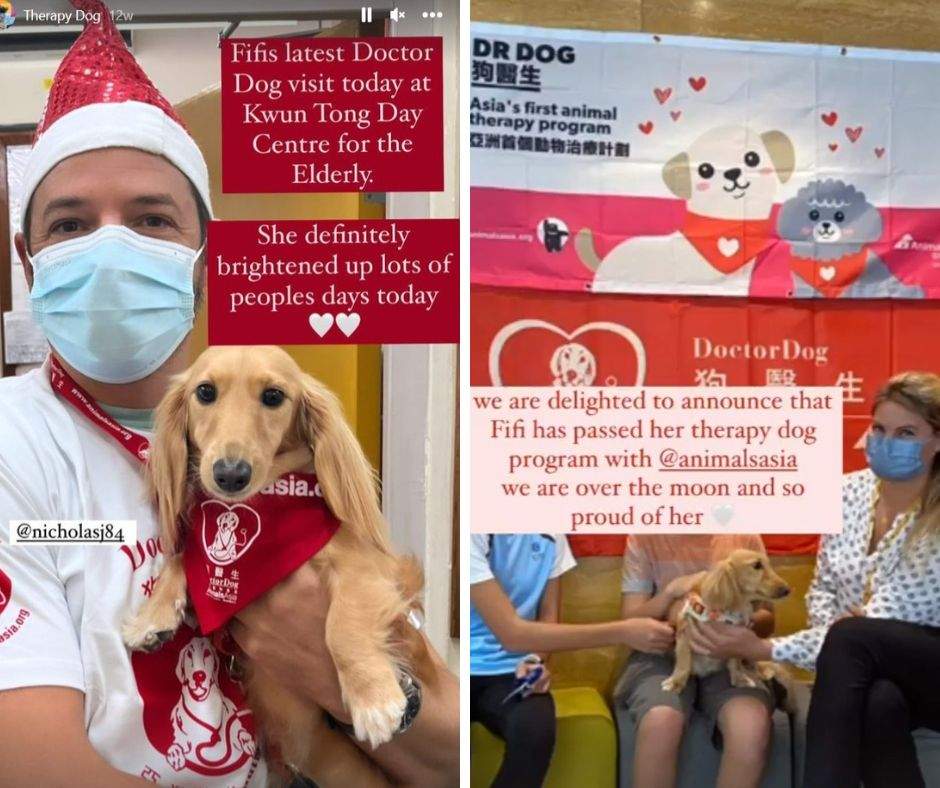 Fifi: I visited some people who were kind to me and all wanted cuddles, they were all nice, apparently my name translates to FATFAT, which everyone laughed at, i did not laugh… RUDE.
Celebrity Pets: Have any exciting trips or plans coming up?
Fifi: Yes, we have lots of exciting trips planned in the U.S. We plan to go to L.A. to visit some friends. We have been invited to a pet event in Chicago. Human keeps yapping about the Bahamas and other strange names, so that'll be cool to pee somewhere new.
Sounds like you have a busy summer, thanks for your time Fifi and Helen! If you want to keep up with Fifi, make sure to follow @fifilittledarling on Instagram, TikTok, and Facebook.