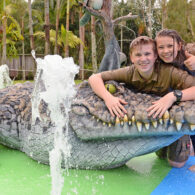 Australia Zoo
Australia Zoo is a 700-acre zoo located in Queensland, Australia. It's owned and run by Terri Irwin, the widow of Steve Irwin, and their children Robert and Bindi. The zoo is also the setting for the Irwin family's Discovery Channel reality series Crikey! It's the Irwins. It was originally founded by Steve Irwin's parents, Bob and Lyn Irwin, in 1970 with the name Beerwah Reptile Park. It was eventually renamed Queensland Reptile and Fauna Park, before becoming the Australia Zoo when Steve and Terri took over in the 1990s. In 2004, they opened the Australian Animal Hospital next to the zoo, which cares for up to 6,000 animals per year.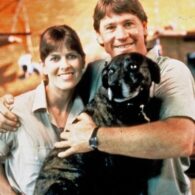 Sui
Sui was the name Steve Irwin and his wife Terri's beloved dog, a Staffordshire Bull Terrier they got in 1998 and lived till she was 15 years old. She was tough and adventurous like her animal-loving parents, joining them on crocodile expeditions and surviving both a car crash and a wild boar attack. They loved Sui so much, that they gave their daughter Bindi the middle name "Sue" in her honor! Fred
With his father a reptile expert and both parents naturalists and zoo owners, Steve Irwin was interacting with wild animals such as crocodiles and snakes his whole life. When he was only six years old, he got a 12-foot scrub python for a pet and named him Fred.
Steve Irwin (Crocodile Hunter)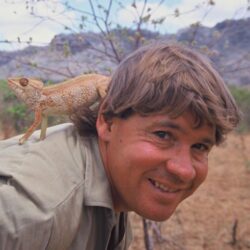 Birthday
February 22, 1962 (61)
Stephen Robert Irwin, also known as "The Crocodile Hunter", was an Australian zookeeper, conservationist, wildlife expert, and TV personality. He was born on February 22, 1962, and sadly passed away on September 4, 2006, due to a stingray attack while filming a documentary on the Great Barrier reef. His family continues his work with animals, including his wife Terri, and children Robert and Bindi. He's most well-known for the international hit TV series The Crocodile Hunter, which he hosted with his wife Terri from 1996-2007. He's also known for owning and operating the Australia Zoo with his wife, which is now run by his wife and children.
Like his children, Irwin has always been around wild animals, thanks to his parents Lyn and Bob Irwin both being zookeepers and animal conservationists. His parents founded the Queensland Reptile and Fauna Park, which became the Australia Zoo. Among his various honors and awards for his conservation and charity work, Austrailia named November 15 as "Steve Irwin Day" to celebrate his legacy.