 Dogs and Cats
Before his time with Rammstein, Christoph Schneider faced grim choices concerning his pets in Berlin, a city then steeped in poverty. Schneider revealed in past interviews that he made the heart-wrenching decision to drown his cats, complying with his girlfriend's request. The goal was to spare them from further suffering due to starvation or life on the perilous streets. Similarly, Till Lindemann, another Rammstein member, faced the agonizing decision to end his dog's life quickly when it contracted rabies. These were not decisions taken lightly, and Schneider has openly discussed how the weight of these actions still resonates with him. The emotional toll of such choices can also affect those who hear about them.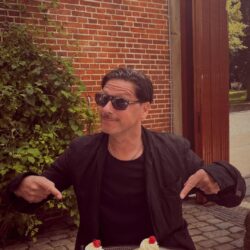 Birthday
May 11, 1966 (57)
Christoph Schneider is a German musician and drummer, best known for his role in the globally successful rock band Rammstein. With a career that spans decades, Schneider has firmly established himself as an instrumental component of the band's unique sound, a synthesis of Neue Deutsche Härte, industrial rock, and electronic music. The band's debut album, "Herzeleid," was released in 1995, followed by a series of successful albums like "Sehnsucht," "Mutter," and "Reise, Reise."
Schneider's collaborations within the realm of music and entertainment are extensive. Apart from his mainstays in Rammstein, including Till Lindemann, Richard Z. Kruspe, Paul Landers, Oliver Riedel, and Christian "Flake" Lorenz, he has worked with an array of musicians and artists. Some notable names include Peter Tägtgren from the project Lindemann, Apocalyptica, Korn's Jonathan Davis, and the music producer Jacob Hellner. Furthermore, he's joined forces with musicians from Clawfinger, such as Zak Tell and Jocke Skog, collaborated with The BossHoss, and has had interactions with music industry titans like Sharon Osbourne and Dave Grohl.
When it comes to recognition, Schneider has been part of a band that has received numerous awards. Rammstein's "Mutter" was certified platinum in multiple countries, and their single "Ich Will" received the Echo Award for Best National Video in 2002. In 2011, the band received the Revolver Golden Gods Award for Best Live Band, affirming the group's strength in live performances.