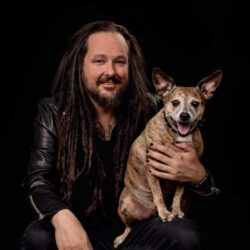 Birthday
January 18, 1971 (52)
Jonathan Davis is an American musician, producer, and singer-songwriter best known as the frontman for the multi-platinum-selling nu-metal band Korn. He was born in Bakersfield, California and was raised playing the piano and singing in the church choir. He began his professional music career in 1993 when Korn formed, and since then he has been the creative force behind the band's success.
Jonathan Davis has been the primary lyricist and vocalist for Korn throughout their career, helping to define the nu-metal genre with his unique singing style and dark lyrics. His vocal range is impressive and his singing has been praised by many musicians, including Slipknot frontman Corey Taylor. His vocal style has also been compared to that of Trent Reznor and Chris Cornell.
Korn has had a lot of success throughout their career, selling more than 40 million albums worldwide and winning many awards, including two Grammy Awards. Jonathan Davis has also collaborated with many other artists, including Stone Sour, Ice Cube, Skrillex, Limp Bizkit, and The Game.
Freak on a Leash – Rock-Themed Dog Accessories Brand
in October 2022, Jonathan Davis unveiled his Freak on a Leash brand of rock-themed dog accessories, named after Korn's iconic 1998 song of the same name. The accessory line currently includes leashes (of course), collars, charms, and keychains. Partial proceeds go towards rescue dog non-profits Pup Culture Rescue and Take Me Home. When asked by Variety if he had this idea for quite a while, Davis said, "I really haven't! It took shape about a year ago. Me and my girl Bee were talking about how much we love our animals and how cool would be to start a pet line of leashes and other dog and cat products, and she said, "How funny would it be if we called it Freak on a Leash?" We went out and found a company to work with that wanted to do it, and the rest was history."