 Pancake, Howdy, and Bunky
In the 1990s, Chris Cornell has three Pomeranians named Pancake, Howdy, and Bunky. tragically, one of his Pomeranians was eaten by one of his German Shepherds, which he then had to give away.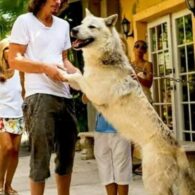 White German Shepherds
When Chris Cornell passed away, he had a white German Shepherd named Polo, but it wasn't his first. He had another white German Shepherd in the 1990s seen here. He had a second German Shepherd at the time, which we believe may have also been white. In September 1999, Cornell told Raygun Magazine about one of his German Shepherds tragically killing one of his Pomeranians, 'We have a white German Shepherd and two Pomeranians. That's one big and two little. We used to have two big and three little. Then one of the bigs ate one of the littles, so we had to give him away. That was hard. We essentially lost two dogs in one four-minute incident. You have a sense of responsibility and a bond with this creature, whether it's a human or an animal, and we've always had an amazing bond with animals."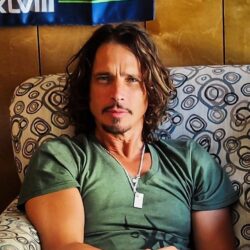 Birthday
July 20, 1964 (58)
Chris Cornell was an American musician and singer-songwriter. He was best known as the lead vocalist, primary songwriter, and rhythm guitarist for the rock band Soundgarden, which he co-founded in 1984. He was also known for his work as the lead vocalist for the supergroup Audioslave and for his solo career. Cornell's powerful and wide-ranging voice, as well as his songwriting abilities, made him one of the most respected and influential musicians of his generation. He passed away in May 2017.