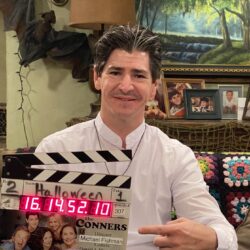 Birthday
October 22, 1981 (41)
Michael Fishman, a recognized American actor, is best known for his seminal role as D.J. Conner in the popular television series "Roseanne."
Emerging into the spotlight in the late 1980s, Fishman won hearts as the youngest Conner sibling in the groundbreaking sitcom "Roseanne," holding this role from 1988 to 1997, and again in its revival in 2018. His performance, coupled with the show's insightful take on working-class America, made the series a cornerstone of American television. Fishman's other notable performances include the reboot series "The Conners," where he reprised his role as D.J. and received praise for his matured acting skills. He also took a leap onto the big screen with a part in "A.I. Artificial Intelligence," directed by acclaimed director Steven Spielberg.
Over the years, Fishman's career has been enriched by collaborations with numerous esteemed individuals from the entertainment industry. Early in his career, he worked with fellow cast members from "Roseanne," including Roseanne Barr, John Goodman, and Sara Gilbert. In addition, Fishman had the opportunity to share screen space with Hollywood legend Haley Joel Osment in "A.I. Artificial Intelligence." His directorial stint in "The Conners" led him to collaborate with talents such as Laurie Metcalf, Emma Kenney, and Ames McNamara. Fishman's career also saw interaction with industry powerhouses like Bruce Helford, a prominent writer and producer, and Whitney Cummings, co-showrunner of the "Roseanne" revival.
Fishman's work hasn't gone unrecognized. His role in "Roseanne" earned him a nomination for the Young Artist Award in the Exceptional Performance by a Young Actor Under Ten category in 1990. His efforts in "The Conners" were also lauded, culminating in a nomination for Outstanding Performance by an Ensemble in a Comedy Series at the Screen Actors Guild Awards in 2020.