 No Pets (Jake Goldberg)
Jake Goldberg does not have any reported pets.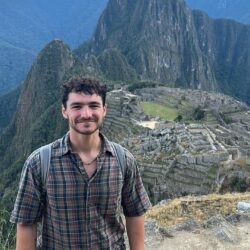 Birthday
February 7, 1996 (27)
Jake Goldberg is an American actor who has made a name for himself through his voice work as Pablo the blue penguin in the Nick Jr. Channel's "The Backyardigans" and his portrayal of Greg Feder in the "Grown Ups" film series. Since his career took off in 2006, Goldberg has been a dynamic presence in the entertainment industry, engaging audiences with his performances in both animated and live-action roles.
Goldberg's foray into the world of acting began with his role in the 2006 CGI film "The Ant Bully," where he lent his voice to the character Helmet Boy. In the same year, he stepped into the shoes of Pablo in "The Backyardigans," endearing himself to a younger demographic over the course of three seasons. His transition to on-screen acting included guest appearances on television; in 2008, he appeared on "Law & Order: Special Victims Unit," and in 2009, he was featured in an episode of NBC's "30 Rock."
Jake Goldberg's career features collaborations with prominent figures in the entertainment industry. In "Grown Ups" (2010), he worked alongside Adam Sandler and Chris Rock, and returned for "Grown Ups 2" (2013) with Kevin James and David Spade. His voice acting role as Pablo in "The Backyardigans" involved collaboration with LaShawn Tináh Jefferies, contributing to the show's appeal to its young audience from 2006 to 2013.
Goldberg's performance received a Golden Raspberry Award nomination in 2013 for "Grown Ups 2." His work on "The Backyardigans" was part of a series that enjoyed a successful run for several years, establishing him as a consistent presence in children's entertainment. While Goldberg's career may not be defined by a long list of awards, his contributions have been integral to the success of the projects he has been involved with.