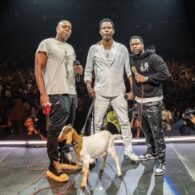 Will Smith (Goat)
Chris Rock has a pet goat. In July 2022, comedians Kevin Hart and Chris Rock had a limited series of comedy shows together. At the end of one show, Hart gifted a goat to Chris Rock, which he named on spot "Will Smith". For the full story, click here. Chris Rock has no other known pets.
Chris Rock is an American comedian, actor, writer and filmmaker. Rock started his standup comedy career at 19 years old in New York City. After Eddie Murphy saw his act, Murphy became his friend and mentor. He also gave him his first major film role in Beverly Hills Cop II (1987). He was joined Saturday Night Live in 1990 and quickly became one of the popular male cast lineup with Adam Sandler, David Spade, Rob Schneider and Chris Farley.
After saying he was fired from SNL in 1993, he wrote and starred in his classic comedy film CB4. The next year he released his first of many successful and Emmy Award-winning HBO comedy specials with Big Ass Jokes. In 1997, The Chris Rock Show premiered and ran for five seasons. The 1990s also saw him star in major supporting movie roles, such as Beverly Hills Ninja, Lethal Weapon 4 and Dogma. Most recently he's known for starring in Grown Ups (2010) and it's sequel, along with Top Five (2014) which he wrote, directed and starred in.