 No Pets (Jaylen Barron)
Jaylen Barron does not have any reported pets.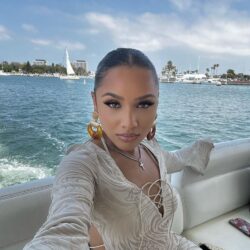 Birthday
August 31, 1997 (26)
Jaylen Barron is an American actress most recognized for her prominent roles in television series. As an individual with considerable impact in the entertainment industry, her journey has been nothing short of remarkable.
Barron has showcased her versatility through a range of television series. She first captured audiences with her portrayal in "See Dad Run" as Mary Barnes, which aired on Nick at Nite. This role laid the foundation for her subsequent successes. One of her standout performances has been in the popular Netflix drama series, "Free Rein," where she embraced the role of Zoe Phillips, a teenager with a passion for horse riding.
Throughout her career, Jaylen has worked with a myriad of artists and celebrities. She has shared the screen with David Spade in "See Dad Run," Kerry Washington in "Scandal," Billy Ray Cyrus in "Still the King," and Kevin Hart in "Real Husbands of Hollywood." Her interactions have also extended beyond television, including engagements with significant personalities like Navia Robinson, Freddy Carter, Bruce Herbelin-Earle, Manpreet Bambra, Céline Buckens, and Charlotte Jordan.
The testimony to Jaylen Barron's exceptional talent is visible through the awards and distinctions she has gathered.Her performance in "Free Rein" led her to win the prestigious NAACP Image Award for Outstanding Children's Program.