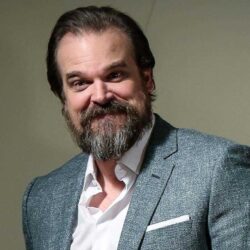 Birthday
April 10, 1975 (48)
David Harbour is an American actor. He gained popularity after his role as of Jim Hopper in the popular Netflix series Stranger Things (2016–present). He won a Critics' Choice Television Award in 2018. For the role, he also received Primetime Emmy Award and Golden Globe Award nominations.
Harbour had supporting roles in films such as Brokeback Mountain (2005), Quantum of Solace (2008), The Green Hornet (2011), End of Watch (2012), The Equalizer (2014), Black Mass (2015) and Suicide Squad (2016). He portrayed the title character in the superhero film Hellboy (2019) and played Red Guardian in the Marvel Cinematic Universe movie Black Widow (2021) costarring with Florence Pugh, Rachel Weisz, and Scarlett Johansson.
David Harbour is married to Lily Allen.