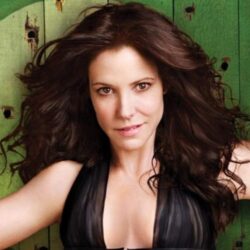 Birthday
August 2, 1964 (59)
Mary-Louise Parker is an American actress best known for her leading role as Nancy Botwin in the Showtime series Weeds (2005-2012). She came to prominence for film roles in Grand Canyon (1991), Fried Green Tomatoes (1991), The Client (1994), Bullets over Broadway (1994), Boys on the Side (1995), The Portrait of a Lady (1996), and The Maker (1997). Notably, Parker starred as Amy Gardner in the NBC television series The West Wing from 2001 to 2006 and received both a Golden Globe and a Primetime Emmy Award for her portrayal of Harper Pitt in the HBO television miniseries Angels in America in 2003. Later film roles include The Spiderwick Chronicles (2008), Red (2010), R.I.P.D. (2013), and Red 2 (2013). She returned to Broadway in 2019 to star in The Sound Inside, for which she won her second Tony Award for Best Actress in a Play.
Throughout her career, Parker has shared the screen with some of Hollywood's most celebrated actors. She starred alongside Kevin Kline in Grand Canyon, Kathy Bates, Mary Stuart Masterson, and Jessica Tandy in Fried Green Tomatoes, Susan Sarandon and Tommy Lee Jones in The Client, and John Cusack in Bullets over Broadway. Additional collaborations include appearances with Drew Barrymore and Whoopi Goldberg in Boys on the Side, Mia Farrow in Reckless, and Nicole Kidman, Viggo Mortensen, Christian Bale, John Malkovich, and Barbara Hershey in The Portrait of a Lady.
Parker's talents have been recognized with several awards. She received the 2001 Tony Award for Best Actress in a Play for her portrayal of Catherine Llewellyn in David Auburn's Proof. Her performance in Angels in America resulted in her receiving both the Golden Globe Award and Primetime Emmy Award for Best Supporting Actress in a Miniseries or Television Film in 2003. In addition to her screen accomplishments, Parker has also been acknowledged for her theater work, earning the 1997 Lucille Lortel Award, Outstanding Actress, and 1997 Obie Award, Performance for her performance in Paula Vogel's How I Learned to Drive. She later won her second Tony Award for Best Actress in a Play for her role in The Sound Inside in 2019.
Beyond her acting career, Parker has demonstrated a commitment to giving back. She has been honored for her work with Hope North, an organization dedicated to the education and healing of young victims of Uganda's civil war. Her advocacy began after a personal encounter with a former victim of the conflict. Parker's compassion extends to her writing as well, having contributed articles to Esquire magazine and published a memoir in letters, Dear Mr. You, sharing her reflections on significant men in her life.